- A little girl said her heartwarming piece in support of President Duterte
- She asked for 'Tatay Digong' to not give up and said that he is the 'best president ever'
- The viral video was uploaded on the Facebook page of Duterte and Bato Supporters
With Philippine President Rodrigo Duterte receiving a variety of reactions and feedback from people all over the world, it is refreshing to see a young girl rooting for the blunt-speaking man.
A video that was posted on the Duterte and Bato Supporters page on Facebook featured a little girl sharing a touching message for the president.
She addressed the head of the state as 'Tatay Digong,' the affectionate nickname popularized by his avid supporters.
READ ALSO: This Russian netizen was 'amazed' with Duterte after reading newspaper feature
The adorable child urged Duterte to keep on striving as the nation's leader despite the challenges and hurdles thrown to his direction. She claimed that the possibility of a lot of people being 'killed' in the country will not be far fetched once he gives up and steps down from his position.
A different voice was heard a few moments later in the footage, asking if she considers Duterte as a savior to which the girl agreed, adding that he was chosen by his countrymen for the job.
"You're the best president ever," she quipped.
READ ALSO: Inday Sara threatens to resign as Mayor after quarrel with Duterte!
Another consequence she mentioned if Duterte would accept failure was that 'bad guys will take Tatay Digong's spot' as the president.
The voice in the background echoed most of the netizens' thoughts and said that Duterte will be happy to hear the young girl's heartfelt message.
When the time to say goodbye arrived, she sent a flying kiss and wished the president to always stay safe.
READ ALSO: Davao Mayor Sara Duterte clarifies bank account for donations to blast victims
The short clip has become an online hit, being shared for over 31,000 times and receiving 17,000 reactions.
Netizens were delighted after watching the video. They spoke on behalf of Duterte, writing how he would love to view the footage and witness how she 'spoke from the heart.'
They expressed their fondness towards the child – thanking her for being a breath of fresh air and wishing her all the best in life.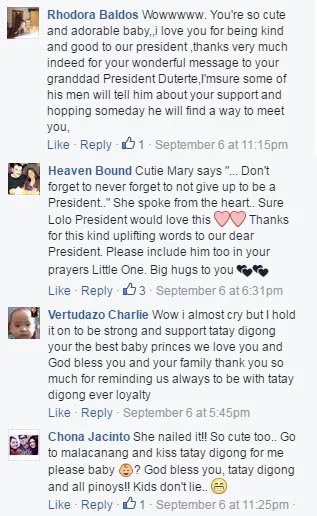 READ ALSO: Obama teaches Duterte how to effectively fight drugs in the Philippines
Duterte has a large number of supporters – locally and internationally. Despite all the criticisms hurled on his way, his followers defended him on various platforms of social media.
Source: Kami.com.ph