Two thieves are made to beat each other as punishment
- Two thieves were caught in the rural part of South Africa
- The local community decided that a fitting punishement for the thieves would be to have them repeatedly slap each other
- In rural parts of South Africa where there are not enough police the people often take justice into their hands Old-West style like in the following video
This is what they do to thieves in South Africa!
In rural areas where the police are lax vigilante and mob justice is common.
When these two thieves were caught the locals decided to teach them a lesson. It was decided that the most fitting way to sort them out was to make them beat each other!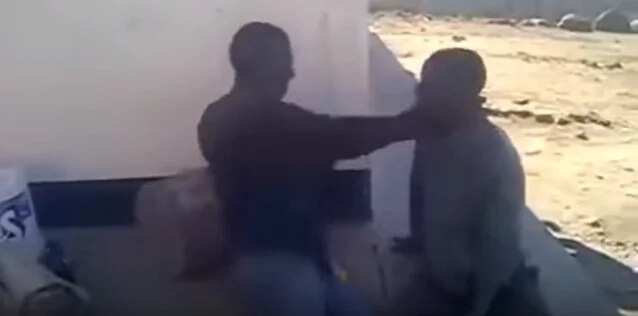 READ ALSO: Millions of dollars of jewelry were stolen from Drake's bus
The video depicts the two forlorn suspects slapping each other in turns. The one in the grey shirt is clearly much more enthusiastic in punishing his companion.
We can hear their punisher probably encouraging them to keep on slapping in the background.
READ ALSO:  Poor guy caught his girlfriend cheating and Snapchats it all
READ ALSO: Big brother brutally beats man that tried to rape his little sister
Source: KAMI.com.gh