- A Russian man was all praises on Duterte after reading an article about him on the newspaper
- He was 'amazed and happy' after learning Duterte's 'brilliant replies' and described them to be of the 'highest diplomatic level'
- He expressed his support towards the president and urged him to not give up on his duties
Philippine President Rodrigo Duterte has been the center of international media for a while already. This could be attributed to his fierce campaign against the illegal drug trade that has reportedly brought an increasing number of extrajudicial killings in the country and a lot of global personalities criticizing his methods.
However, despite all the negative feedback the head of the state receives, it is widely known that he also has a fair share of supporters that back up his actions.
Among those is a Russian man who was vocal about his admiration towards the blunt-speaking president.
READ ALSO: Inday Sara threatens to resign as Mayor after quarrel with Duterte!
George 'GJ Emeka Johnson' Johnson posted a photo of himself on Facebook, holding a newspaper article featuring Duterte.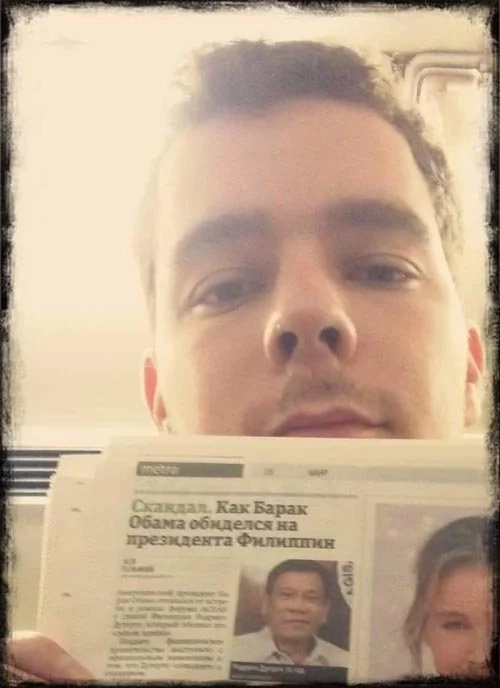 Johnson wrote an open letter addressed to the president, praising him for his actions. He claimed to be 'amazed and happy' upon reading the Russian newspaper that day, especially when he learned about how 'Obama was afraid of asking Duterte questions' because the latter has been famous for his 'brilliant replies.' The Moscow resident even described Duterte's statements to be on the 'highest diplomatic level' which could immediately 'make anybody shut up.'
He took this as a sign of Duterte's rising fame not only in the Philippines, but all over the world as well.
READ ALSO: Obama teaches Duterte how to effectively fight drugs in the Philippines
Johnson concluded his letter by expressing his wishes that Duterte must refuse to give up no matter what the circumstances are since he was the 'last hope for the Philippines.'
"You're the last angel who came not to talk but to do. We love you, Mr. President Rodrigo Duterte!" he said.
The post, which was also uploaded on the 911 Philippines Supporters page, has gone viral after gathering nearly 7,000 shares and over 16,000 reactions.
READ ALSO: Netizen on voting for Duterte: 'I am embarrassed'
OFWs voiced out their sentiments on the comments section and shared testimonies of how other nationalities have been commending Duterte regardless of the continuous backlash he has been receiving.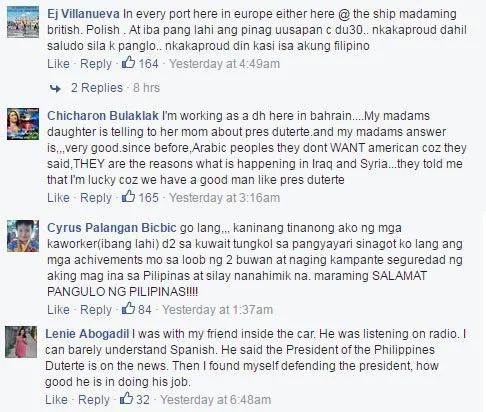 Duterte's intensified war against the illegal drug trade has also brought 'inspiration' to Indonesia – prompting them to step up their own campaign against the unlawful substance.
Source: Kami.com.ph