- An insurgency has been happening in Thailand for 13 years now
- The latest events related to this is the bombing of a train and hotel in Pattani
- The government has denied the state of insurgency in the area
On September 3, a faceless group of insurgents, labeled by others as "terrorists", bombed a train in the town of Pattani, resulting in the death of a railway worker and injuring three other people.
It was the second attack that happened on a train just this year.
This insurgency has been going on in three southern provinces in Thailand. Bombs, blood, and bullets are seen everywhere.
Two weeks ago, these faceless rebels also bombed a hotel in central Pattani, killing at least 2 people and injuring 40 others.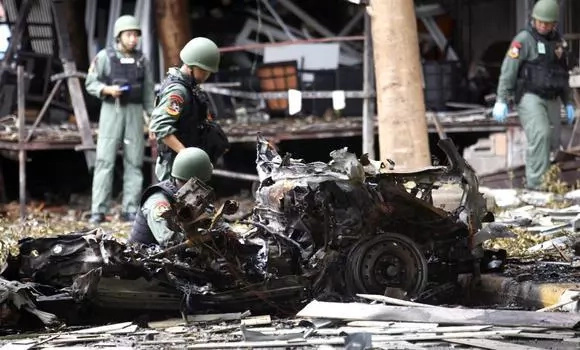 READ ALSO: Malaysia confiscates RM3 million worth of smuggled drugs in different raids
"It was a loud explosion and it made us more nervous," a resident said.
Through the course of this insurgency, at least 6,700 lives have been taken away while 12,300 people have suffered injuries. The report is based on Deep South Watch, an independent monitoring group.
Ending this is a security challenge for Thailand's military regime.
Based on previous reports, investigations revealed that there could be links between the alleged perpetrators and the Barisan Revolusi Nasional (BRN), the largest-known Thai-based rebel group.
READ ALSO: Behind Maldives' world-class tourist destinations are people living in slums
However, BRN has not claimed responsibility of any of the attacks until September 7, when a junior member of the group acknowledged that BRN is responsible for the bombings.
Foreign representatives have come to believe that the latest bombing events have something to do with the government. They think that the group is sending the Thai government a message, including the fact that these insurgent groups are capable of escalating the conflict.
"The purpose was to send a message to the government," one diplomat told the Nikkei Asian Review, "but what if the government doesn't heed the message?"
What is more troubling is the fact that the government has been publicly denying the state of insurgency in the area. This has even troubled military commanders especially in the south where there are at least 10,000 supporters of BRN. -Kami Media
READ ALSO: Indonesia steps up anti-drug war Duterte style
Source: Kami.com.ph