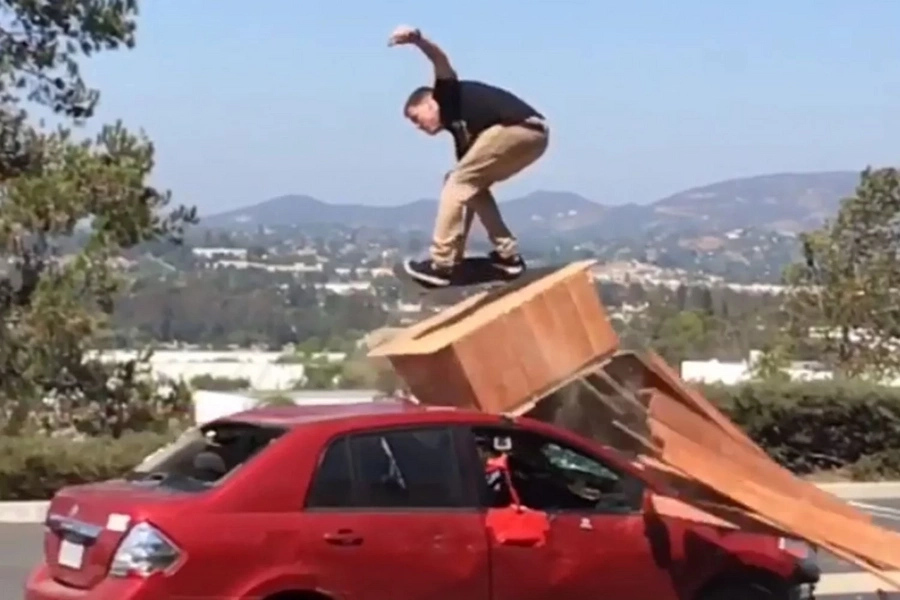 - Famous Jackass Steve-O broke both his legs trying to perform a skateboard stunt
- The stunt involved Steve-O standing on top of a small tower of boxes with a skateboard as a car plows through the boxes, and Steve-O had to land on his skateboard
- However, the stunt didn't go as planned and resulted in the Jackass star breaking both his legs and ending up in the hospital. The whole accident was captured by no other than skateboarding legend - Tony Hawk himself!
Well known Jackass Steve-O broke both his legs trying to do this skateboard stunt.
Steve-O is well known for being the most far out Jackass and this is probably one of his most dangerous stunts, which went terribly wrong.
The trick involved Steve-O standing on top of a stack of boxes with his skateboard and attempting to land on the ground as the car drives through the boxes.
READ ALSO: This reporter wrestled an alligator on live TV
After multiple attempts he broke both his legs and dislocated his right ankle broken in three places, a broken left heel and a sprained waist! OUCH!
Legendary skateboarder Tony Hawk has filmed the whole stunt, including the moment Steve-O broke his legs. Steve O states: "Don't try this at home… or anywhere."
READ ALSO: This reporter wrestled an alligator on live TV
READ ALSO: Big brother savagely beats man that tried to rape his sister
Source: Kami.com.ph