G Tongi wants no hateful, ignorant comments on her Insta
- G Tongi does not want ignorant people on her Instagram to post hateful comments
- The celebrity criticized President Duterte for threatening to curse at US President Barack Obama and canceled the meeting
- The media circus is prompted by a misquoted statement of President Duterte
Celebrity Giselle "G" Tongi wanted no Dutertards on her social media wall as she criticized President Rodrigo Roa Duterte for threatening to curse at US President Barack Obama.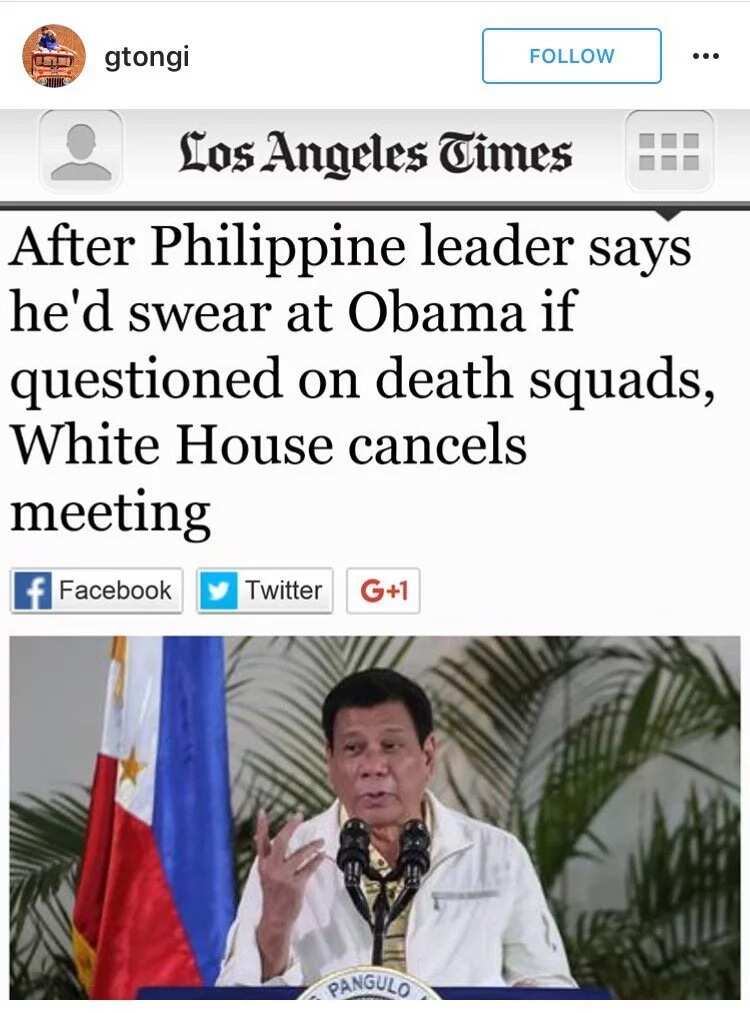 READ ALSO: Vice President Robredo breaks silence on Duterte's insult against Obama
The celebrity posted a photo of Los Angeles Times article featuring the Philippine President with caption, "@potus cancels meeting with #D30 #LaTimes #whatashame If you are going to leave ignorant & hateful remarks, get off my wall! #losers".
G Tongi echoed her call for ignorant people not to comment on her post in the comments section saying, "This is a Los Angeles times article people. It's a credible source. Do me a big favor and unfollow me please?! #notimeforstupidity".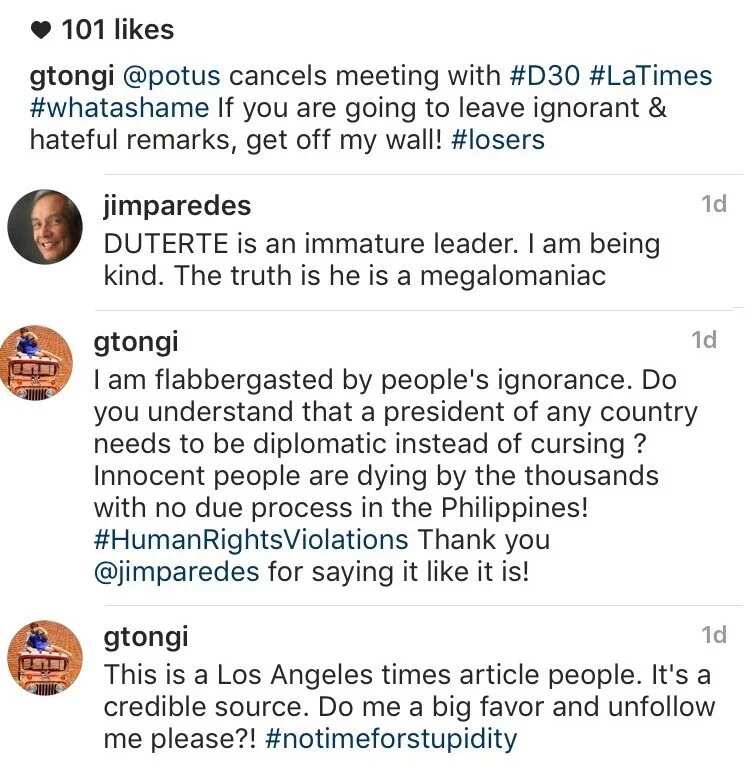 READ ALSO: #TamaNaSobraNa: Mocha Uson urges Duterte to boycott media again
President Duterte has been the topic of local and international media as his statement was misinterpreted or misquoted. News headlines stated that Duterte cursed at Obama, which prompted the latter to cancel the meeting with the former.
Some people think that poor translation was the cause of misquotation and the media circus. One netizen explained in social media that the expletive was not directed towards President Obama, but it is Duterte's expression out of anger or frustration.
President  Duterte stated, "I am a Pres. of a sovereign state and we have long ceased to be a colony. I do not have any master except the Filipino people. Nobody, but nobody. You must be respectful. Do not just throw away question and statements. P*****g ina- mumurahin talaga kita diyan sa forum."
READ ALSO: Robin, Aiko condemn media for mistranslating Du30's remarks against Obama
Source: KAMI.com.gh