- A netizen is furious with ABS-CBN for taking video of an actual murder without helping the victim
- The victim died on the spot and the suspect was arrested promptly after police and residents chased him
- The news report and video clip can no longer be found in ABS-CBN website and social media pages
A video clip of a news reported by ABS-CBN is making the rounds online as a netizen claimed that the cameraman of the network taking the video did nothing while his cousin was being killed.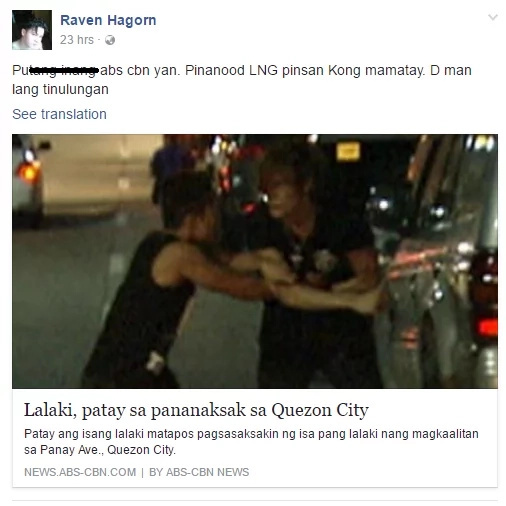 READ ALSO: Nagging wife BURNED alive by common-law husband
In the video, the cameraman is in full view of two men fighting in what appear to be a fist fight. However, the video clearly shows that one of the men is stabbing the victim. The suspect stabbed the victim on the neck and torso.
The victim was known as James Chua. The suspect was identified as Melencio Espanola, who tried to escape after the incident, but was caught after cornered by the residents. It was found out that Espanola attacked another person named Ruel Piso who sustained fatal injuries and is currently in the hospital.
Espanola claimed that it was an act of revenge and the two mauled him in a previous incident. He will face murder and frustrated homicide charges.

READ ALSO: Another gruesome crime in San Jose Del Monte, Bulacan
According to the netizen Raven Hagorn, the incident happened on September 3, but the network aired the news clip yesterday at Umagang Kay Ganda. Hagorn furiously posted on social media that the ABS-CBN just stood there shooting for a scoop or exclusive story, while the victim fell down on the road.

Hagorn's post got reposted hundreds of thousands of times. However, as of the time of writing, ABS-CBN deleted the news report and the video. The report was an exclusive story, which means that it was not reported by other networks.
Some netizens questioned the ethics of the cameraman shooting the video. It seemed that the journalist is more concerned in getting a scoop than being compassionate with the victim.
READ ALSO: 16-year-old girl commits suicide after her friend leaked photos from their private chat
Source: Kami.com.ph