- A video uploaded on Caught on CCTV's Facebook page became viral online
- The video shows a street kid stealing from a car with open windows during traffic hour at C5 flyover
- Netizens share their opinions on the matter at the comments section
Facebook page "Caught on CCTV" posted a video a few hours ago about an incident that happened in C5 flyover. According to their post, it was shared by netizen Xy-Za Bidaure Dagum.
They are alerting the public to keep their windows and doors closed and locked whenever they pass by C5 flyover. Dagum's dash cam was able to capture a horrendous snatching crime committed by a street kid at around 7:30 PM last September 7, 2016 "along C5 northbound flyover from 32nd St BGC."
It seems normal to open some of your windows when the traffic is as bad as Philippine traffic. To save up gas, people usually turn off their air conditioners and open the windows to allow the air in. But after seeing this video, you might think twice about lowering your windows.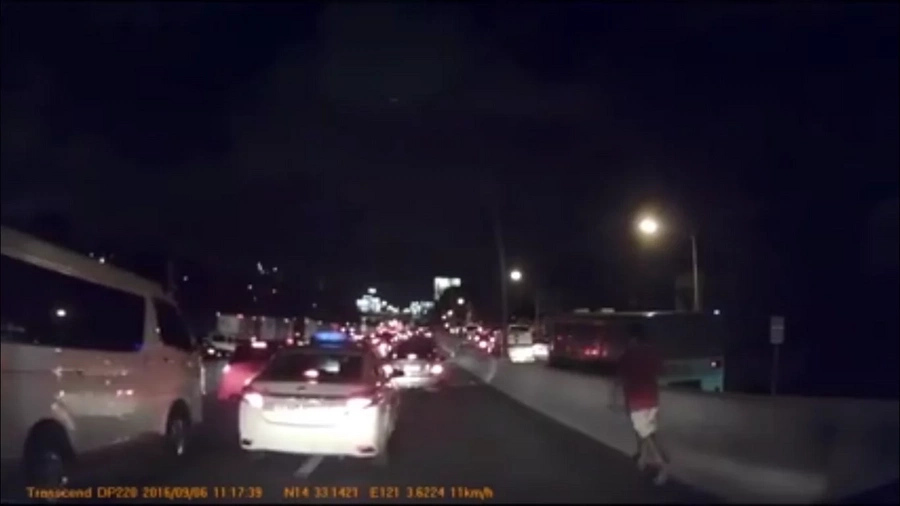 READ ALSO: Ang tapang! Video of another road rage incident in Novaliches goes viral
In the video, it seemed like a normal night with heavy traffic along C5 flyover. Red brake lights flood the scene while cars are stuck bumper to bumper. On the corner of the video, a boy in red shows up on the side of the flyover.
This boy in red begun running towards the cars as if he was searching for something, then he found a red car with its window lowered at the passenger's side. Suddenly, he grabs something from the passenger's side and started running towards the other side of the flyover and jumped instantly.
It looked like the boy waited for the perfect timing to do it. He watched cars who had their windows lowered down and he waited for them to be stuck in traffic so he can get the chance to steal from them.
READ ALSO: See Pinoy motorcycle rider's unbelievable escape from death!
Many netizens were alarmed from this incident that they commented that everyone should lock their doors and windows.


Because of this, angry netizens suggested that the driver with the dash cam should've run over the kid to incapacitate him.

Some have defended that it's good that the person wasn't able to run over the kid.

READ ALSO: Beware! Snatchers pretend to be pasengers during rush hour
Catch the video below:
Source: Kami.com.ph