- Indonesia will be following Philippines' style in their own war on drugs
- Part of their new strategy is strengthening their police force as well as weaponry and technology
- The Indonesian and Philippine presidents will be meeting later this week after the ASEAN Summit
With the Philippine's war on drugs gaining international momentum, a neighboring Southeast Asian country is implementing the same technique in their own war on drugs.
Indonesia's National Narcotics Board chief, Budi Waseso, revealed that they are implementing a "bloody crackdown on traffickers."
Waseso believes that a campaign like the Philippines' would help protect and safeguard "our beloved country".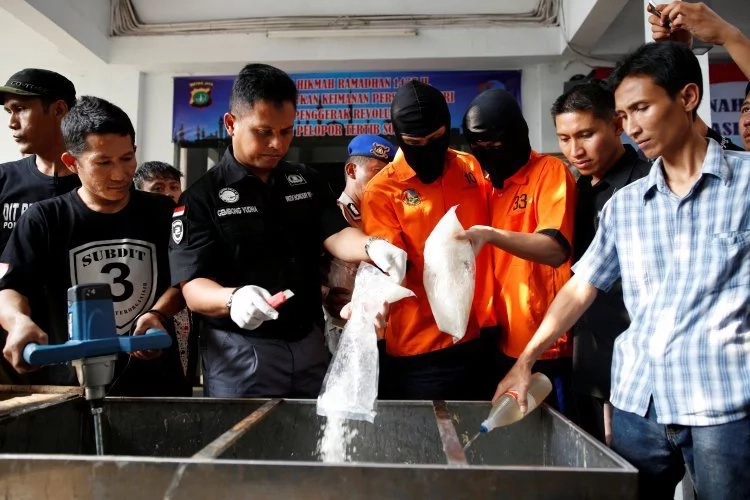 READ ALSO: Netizen blames int'l media for poorly translating Duterte's expletives
The anti-drugs czar previously proposed that traffickers who are on death row should be imprisoned on an island surrounded by crocodiles.
Indonesia has stepped up its war against rising narcotics use, including executions of those who have been convicted. Like the Philippines, the country's fight against narcotics has also triggered international outrage.
Part of stepping up their game is strengthening their police force and adding not only firearms and weapons but also investigators. They would also be upgrading their technology and doubling the number of sniffer dogs to its arsenal.
READ ALSO: Bato suspects DRUG lords and Abu Sayyaf team-up vs Duterte!
Waseso said that the country would be as aggressive as the Philippines as the drug problem in Indonesia is equally bad as that of the Philippines.
"The life of a dealer is meaningless because (he) carries out mass murder. How can we respect that?," Waseso said.
He also believes that if an aggressive policy will be implemented in their country, the number of drug traffickers and users would "drop drastically."
"I would be on the frontline to eradicate all the traffickers," he said.
READ ALSO: People aren't happy over burning of marijuana plants by PNP
Meanwhile, Indonesia President Joko Widodo and President Rodrigo Roa Duterte will be meeting in Jakarta later this week, after the ASEAN Summit. It is pre-empted that one of the main topics will be the war on drugs.
In the Philippines, 2,400 individuals have been killed since June as part of the "war on drugs".
According to reports, 900 of these deaths are results of police operations while the rest are considered as "deaths under investigation."
Although President Duterte has drawn condemnation from the United Nations, he has refused to back down. -Kami Media
READ ALSO: Duterte may visit May Jane Veloso, a Filipina worker convicted for drug trafficking in Indonesia
Source: Kami.com.ph