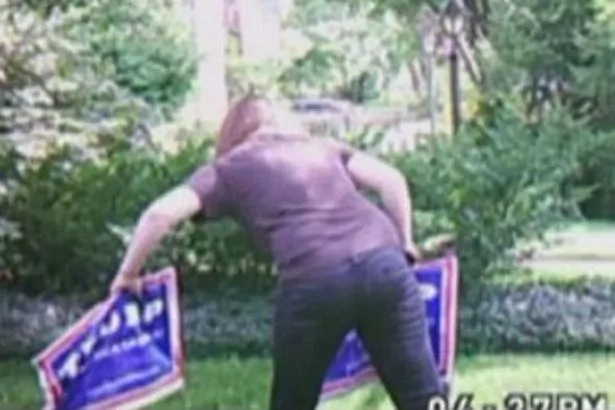 - This Republican's 'Vote Trump' sign got stolen so often from his backyard that he decided to booby trap it
- Too protect his property from thieves he attached the sign to some fishing line he secured to a nearby wall and put a hidden CCTV to catch the perpetrator
- It didn't take long for the booby trap to go off: CCTV footage shows a woman grabbing the political sign and trying to make off, but she doesn't notice the wire and trips face flat into the ground
This man's "Vote Trump!" sign was being stolen so often that he just decided to booby trap the sign and set up a hidden CCTV camera to catch whoever is doing the mischief.
The Republican from Indianapolis said that the sign tries to get stolen as often as twice a month!
He attached a green fishing line to the sign and secured it to a nearby wall. Then he put up a well-hidden CCTV camera on a tree to catch the criminal red-handed.
READ ALSO: A naked woman attacked Chinese drivers during rush hour
READ ALSO: Little doggy cockblocks this man whenever he touches his girl
It didn't take long for his booby trap to go off.
In the CCTV footage a woman is seen approaching the 'Vote Trump' sign, picking it up and trying to make away with it. However, she doesn't notice the fishing wire attached to the sign and she trips over and falls flat on her face.
The owner of the sign, known only as Philip, said: "Whether it's a Bernie or Hillary or a Trump sign, you might disagree with whatever the politics are, but it's not yours. Just leave it alone."
READ ALSO: CCTV footage captures Sarah Patel's heroic act
Source: Kami.com.ph