- Philippine President Duterte called US President Barack Obama as "son of a whore" on Monday before leaving for Laos
- The statements of Duterte dominated international headlines, and a supposed meeting between Obama and Duterte was cancelled by Obama
- Americans  back Obama and are now urging government to pullout business interests from the Philippines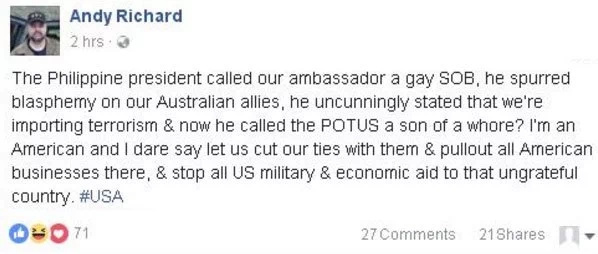 The insults hurled by President Rodrigo Duterte against US President Barack Obama didn't go unnoticed. Americans rallied behind their President and urged the US government to cut ties with the Philippines and to pullout business interests from the country.
One US veteran, Andy Richard, urged the US government to cut ties with the Philippines and to "pullout all American businesses" from the country.
READ ALSO: Netizen said President Rodrigo Duterte didn't curse Obama
His exact post was:
"The Philippine president called our ambassador a gay SOB, he spurred blasphemy on our Australian allies, he uncunningly stated that we're importing terrorism & now he called the POTUS a son of a whore? I'm an American and I dare say let us cut our ties with them & pullout all American businesses there, & stop all US military & economic aid to that ungrateful country. #USA."
On Monday, before leaving for Laos to attend the Association of Southeast Asian Nations (ASEAN), Duterte faced the press, answering questions on possible meetings with world leaders.
One Reuters reporter asked President Duterte how he will be explaining the spate of extrajudicial killings in the country, to which Duterte replied and called US Pres. Barack Obama as a "son of a whore."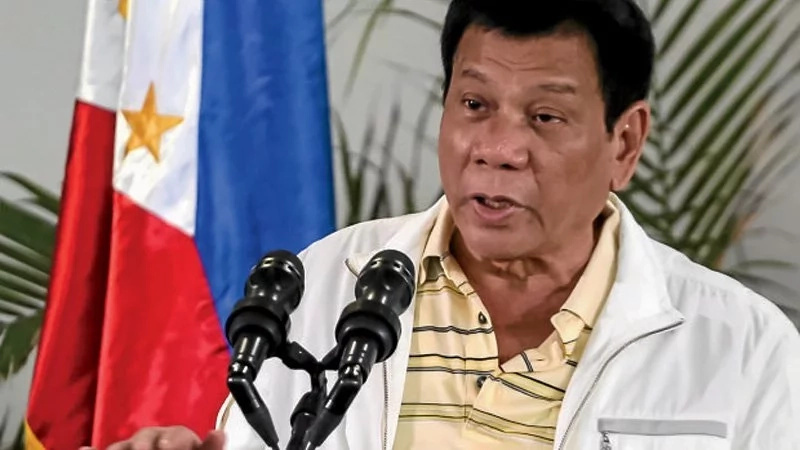 (photo credit: newsinfo.inquirer.net)
The tough-talking Philippine President vowed that he would not be lectured by anybody, not even by Barack Obama.
READ ALSO: Ms. University Mindanao 2016 speaks up on Duterte's drug war
"You must be respectful. Do not just throw away questions and statements. Son of a whore, I will curse you in that forum," Duterte told the press. The last sentence was the one that made headlines all over the world, which resulted in the cancellation of a scheduled meeting between Barack and Duterte.
The supposed Tuesday meeting between US President Obama and Philippine President Duterte became a meeting between the US President and South Korean President Park Geun-hye, where one of the agendas of the meeting would be the missile tests done by North Korea.
READ ALSO: Senators concerned about Duterte's Obama insult
Source: Kami.com.ph