- Caramoan Chief of Police Chief Insp. Joselito Bermas may have to explain his daughter's controversial post on Facebook last Tuesday, September 6
- Jessa Aure Bermas, the daughter of Caramoan COP, had made a Facebook post which warned citizens of Naga City of possible terror attacks from the Abu Sayyaf Group (ASG) who were allegedly already in the city
- The post has been taken down on Tuesday and in its place is an apology for the misinformation, but bashers still abound prompting Bermas' bestfriend to write an open letter defending her
Chief Insp. Joselito Bermas, police chief of Caramoan, may have to provide an explanation following the viral Facebook post made by his teenage daughter, Jessa Aure Bermas, warning the people of Naga City of a possible terror attack by the Abu Sayyaf group (ASG).
PNP Spokesperson Sr. Supt. Dionardo Carlos has also called the attention of Caramoan COP Bermas to explain the matter.
"When intel reports are shared or passed to lower unit commanders, they must be able to assess the values of the report first," Carlos said in a statement.
READ ALSO: 6 most unforgivable crimes that Abu Sayyaf Group has done
The Facebook post had gone viral on Tuesday, September 6, — after it revealed information that members of the terror group has entered Naga City and is allegedly planning to launch an attack.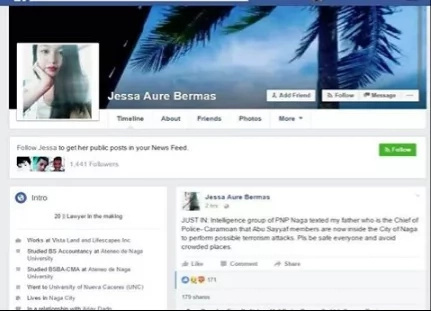 The post had said: "JUST IN: Intelligence group of PNP Naga texted my father who is the Chief of Police – Caramoan that Abu Sayyaf members are now inside the City of Naga to perform possible terrorism [sic] attacks. Pls be safe everyone and avoid crowded places."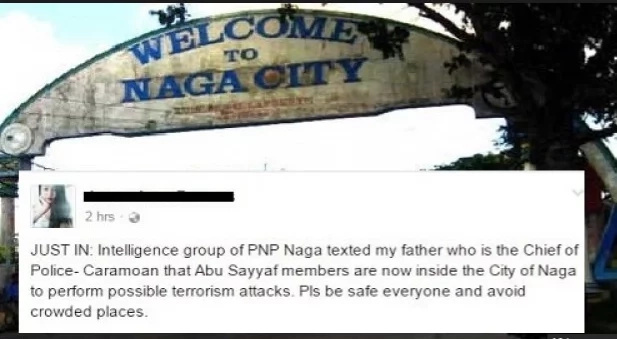 The Facebook account under the name Jessa Aure Bermas was also deactivated on Tuesday morning and reactivated around 11 a.m. with the Abu Sayyaf threat on the previous post already taken down and replaced with a new message which says: "Sorry for my previous post. Misunderstanding. Not true. I should've post anything. I am just nothing but a civilian."
READ ALSO: Heartbreaking story of Fatima Manalo, SURVIVOR of Davao bombing
Despite being taken down, reports had it that Naga Philippine Nation Police (PNP) had taken the threat from the post seriously, and has been on high alert even without confirmed reports of the presence of Abu Sayyaf group members.
In an interview, Caramoan Chief of Police (COP) Joselito Bermas, confirmed that it was, indeed, his daughter, Jessa.
"She must have heard my conversation with my wife regarding the terroristic attacks that happened in Mindanao," Bermas clarified.
READ ALSO: Abu Sayyaf disowns attack, tags ally behind Davao blasting
Information Officer SPO2 Tobias Bongon of Naga City Police had said that they were surprised the information about the threat was posted on social media. He also denied that the alleged information come from them, and offered that it may have come from another source like the Military Intelligence Group (MIG).
Meanwhile, Bongon also said they have yet to monitor any Abu Sayyaf activity in Naga, but they are implementing strict security measures in the city because the Penafrancia Festival will be celebrated this month.
Bashers abound after the post was taken down and clarified by the police. One netizen, however, had defended Jessa Bermas and urged the bashers to try to imagine the teen's feelings now that she features in almost all news media for the controversial post.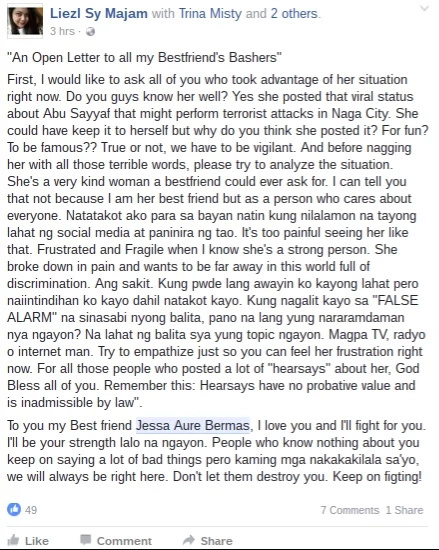 She also expressed her support to Jessa Bermas. "People who know nothing about you keep on saying a lot of bad things pero kaming mga nakakakilala sa'yo, we will always be right here. Don't let them destroy you. Keep on figting!" she concluded.
RELATED: A DEVASTATED husband wants to join war against ASG to avenge wife killed in Davao bombing
Source: Kami.com.ph