- Recently, SM Supermalls reintroduced the long lost etiquette in escalators
- A netizen posted a photo about it that became viral on Facebook
- Netizens applaud this initiative and hope that other Filipinos follow it
When it comes to escalators, there is an expected etiquette that you need to follow. You are to stand on the right side, so rushing passengers can walk on the left side.
It is fully implemented in other countries like Singapore, Japan, London, and elsewhere, with some variations in other parts of their countries. Some stand on the left, while rushing passengers walk through the right side.
In our case, however, it has been an implied etiquette that Filipinos who aren't in a rush to stand on the right while others can breeze through on the left. But, why is it that Filipinos aren't aware of it?
READ ALSO: WTF! Big rat found hopping at QC mall escalator
It has been taught in schools and some would even say that it's common sense to know this etiquette even if no one has taught it. There aren't any signs that blatantly urge people to follow this discipline.
Well, now, there is! Thanks to SM Supermalls for reintroducing this simple yet revolutionary etiquette. When this small yet genius etiquette is followed by everyone, there will be more space, the pace will be faster, and people will be more disciplined.
Facebook user Ken Lerona posted a photo of an SM employee at SM Aura standing by a printed out escalator etiquette guide with an illustrated guide on how to properly ride the escalator.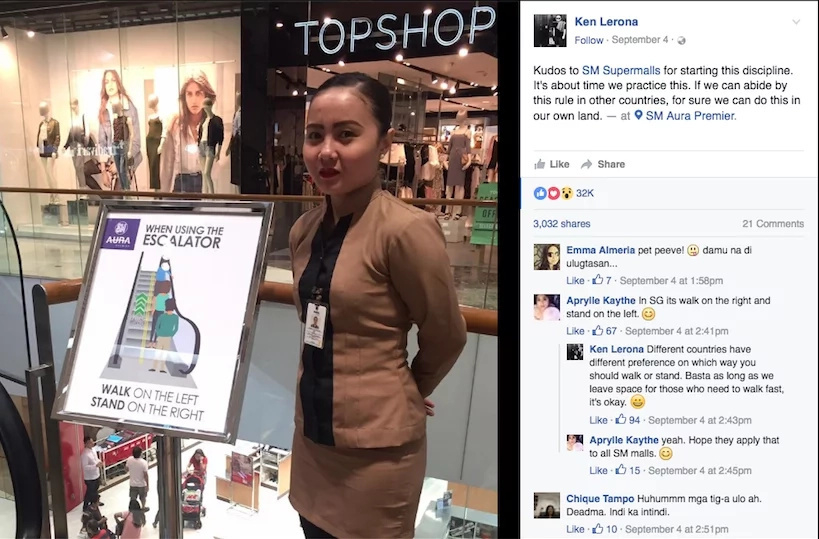 READ ALSO: 3 of China's most notorious escalator videos
According to Lerona, "it's about time we practice this," and also challenges Filipinos that if they can follow this discipline in other countries, surely they can also do it in their own home country.
The post has gone viral with 32 thousand likes and 3 thousand shares as of posting.
Netizens were delighted to see this #EscalatorEtiquette initiative started by SM Supermalls.


READ ALSO: WATCH: Baby crashes down escalator, what his mother did will make you mad!
According to some netizens, this is also being implemented in other malls but some are still clueless.


One person commented that she hopes that it will also be re-implemented in the MRT where it is mostly needed. She also noted that MRT already has this but people are just not following it and the guards aren't strict about it.

So just remember, stand on your right and walk on the left side. - Kami Media
Source: Kami.com.ph