Marcos surpasses other VP candidates in Pulse Asia survey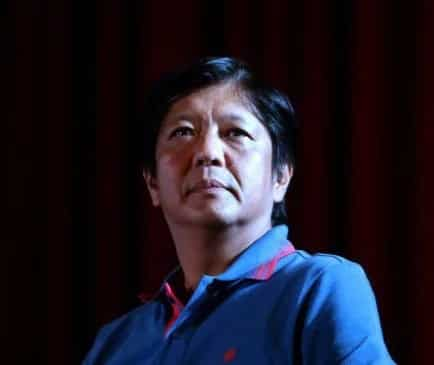 Senator Ferdinand "Bongbong" R. Marcos is leading in the commissioned nationwide Pulse Asia survey conducted from April 5 to April 10 with 4,000 registered voters as respondents having a rating of 27% as vice president.
The Senator 's rating is 1% lower compared to his 28% in the last Pulse Asia survey conducted from March 29 to April 3.
Aspiring president Grace Poe's running-mate and Senator Francis "Chiz" Escudero, who gained 24%, is statistically tied with Liberal Party's Leni Robredo scoring 21%.
Senator Alan Peter Cayetano landed at third having a rate of 17%.
United Nationalist Alliance Senator Gregorio Honasan II and Senator Antonio Trillanes IV acquired 4% and 3%, respectively.
The respondents were tested: If the coming May 2016 elections were held today, whom would you vote for as Vice President of the Philippines?
Pulse Asia said the survey had a ± 1.5% error margin at the 95% confidence level.
It added that subnational estimates for the geographic areas covered in the survey have following error margins at 95 percent confidence level:
± 4.6% for Metro Manila,
± 2.3% for the rest of Luzon,
± 3.4% for Visayas, and
± 3.3 for Mindanao
The results also indicated that 2% of the respondents were undecided. The 1% either refused or said they did not know, or had no choice.
Pulse Asia's Research Chief Ana Tabunda said Pulse Asia might conduct three (3) more surveys before the election. The last one (1) will be released one week before May 9.
In a forum last Satuday, former anti-martial law activitsts namely Mandaluyong City Mayor Benhur Abalos, labor leader Terry Tuazon, Cocofed Chairman Efren Villasenor, and Born-Again Bishop Butch Belgica addressed the public to move on from past issues and look forward to what lies ahead.
They previously cooperated in the ouster of former President and Dictator Ferdinand Marcos Sr.
They said the electorate should consider and focus on the credentials of Senator Bongbong.
The latest Pulse Asia Survey result is contrary to the more updated SWS survey where Vice Presidential candidate Leni Robredo obtained the highest score in the Bilang Pilipino April 13 and 14 SWS Mobile Survey Report. The vice presidential aspirants obtained the following scores: Robredo 30%, Marcos 27%, Escudero 25%, Cayetano 13%, Trillanes 3% and Honasan 1%.
Changes in the Vice-Presidential preferences in this mobile survey after the first Vice-Presidential Debate from the March 31 mobile survey was tracked in the April 14 SWS mobile survey contrary to the Pulse Asia survey.
READ RELATED: Leni Robredo soars to no.1 in latest SWS survey
Source: KAMI.com.gh