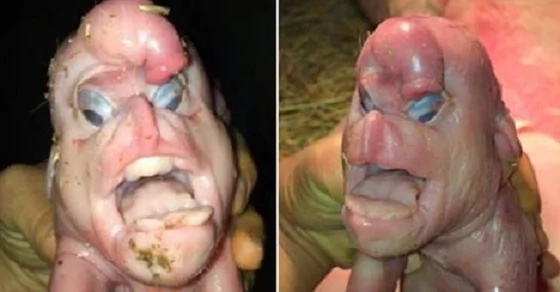 - A deformed piglet was born in China and the owner claimed that it has a human's face and a penis growing out of it's forehead
- Footage of the monstrosity went viral across Chinese social media 
- Sadly the piglet died soon after it was born because the mother did not want to feed it and it refused bottle feeding
Footage of a deformed 'mutant' pig is being rapidly shared on Chinese social media.
They state that the pig appears to have a human face and something resembling a penis on it's forehead.
Many blame pollution as the reason behind the animal's bizarre birth defects.
The pig was born last from a litter of 19 piglets. As soon as the animal was born the owner noticed its deformity and told the local news. There were even many offering to buy the strange looking piglet.
READ ALSO: Three half-naked girls climb into this guys work van!
However the piglet didn't live long because its mother rejected the monstrosity and it refused to be bottle fed.
The owner said: "It is a shame it died, I could have got more money for it than for the rest of the family put together based on what people were offering me on the phone."
He added that he intends to put the pig on display and attract visitors.
READ ALSO: Toddler reminds dad about bathroom etiquette 
READ ALSO: Pit bull savagely attacks little beagle and his female owner