Pit bull savagely attacks little beagle and his female owner
– Pit bull attacked a tiny beagle just on the middle of the street in Boston, USA
– As beagle's owner tried to help her dog pit bull also bit and scratched the woman
– Finally two dogs were pulled apart and afterwards police came to the scene
Raphael Fortin, who published this disturbing video on YouTube, came to Boston to visit Coldplay live show. As he and his girlfriend were walking around the city they confronted a very unusual and somewhat horrifying situation.
They heard some noises, yelling and shouting, quickly realized what was happening and started to film the accident.
READ ALSO: Inches from death! Freakingly lucky dog dodges a race car (VIDEO)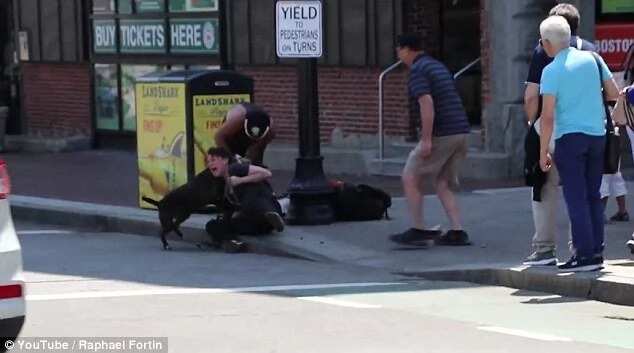 An out-of-control pit bull viciously attacked a little beagle and the owner of the former tried to stop him but could do nothing with his massive and strong dog. On the other hand female owner of the latter also tried to help her pet ending up getting some injuries herself, no one could stop the savage pit bull for quite a long time.
Many of the people around weren't just standing still, they also tried to solve the situation. One of bystanders actually kicked the pit bull several times, thus outraging a woman with the camera:  'What the f***! Oh my God!' — she yelled.
READ ALSO: Terrier dies after saving children from pitbulls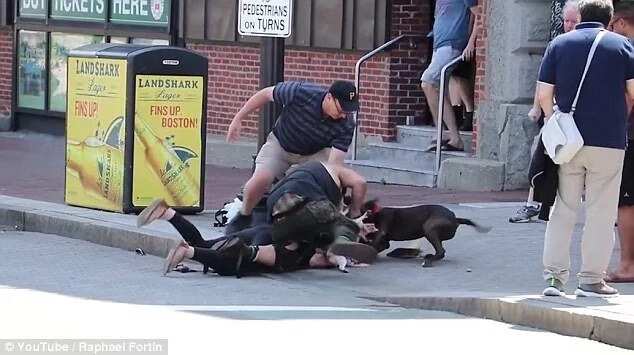 Finally two dogs were pulled apart and the pit bull owner pressed his pet down to the ground. Afterwards police came to the scene, when the fight was already broken up and the situation solved.
Female owner of the beagle left the scene in a police car, presumably she went to the hospital to inspect her injuries. Her little friend beagle is seems okay too, despite the pit bull managed to fix his jaws onto beagle's neck.
'The guy (pit bull owner) claimed that he got punched in the face which made his dog defend him and attack the smaller dog. I can't confirm if this is accurate.' — said Raphael Fortin, so the truth is once more remains unknown.
– Kami Media
RELATED: Watch this crazed bulldog attack over 20 people in China! (VIDEO)
Source: KAMI.com.gh