- Footage of a motorcycle rider almost getting killed by an L300 van which counter flowed on the road went viral
- The rider was only able to escape death due to his riding skills and cat-like reflexes
- The rider was able to take the plate number of the van
Footage of a motorcycle rider escaping death at the last second had gone viral, with netizens amazed at the reflexes of the biker but outraged by the reckless driver who almost killed him.
The video – taken from a camera attached to the rider's helmet – shows the biker smoothly riding his motorcycle on the road.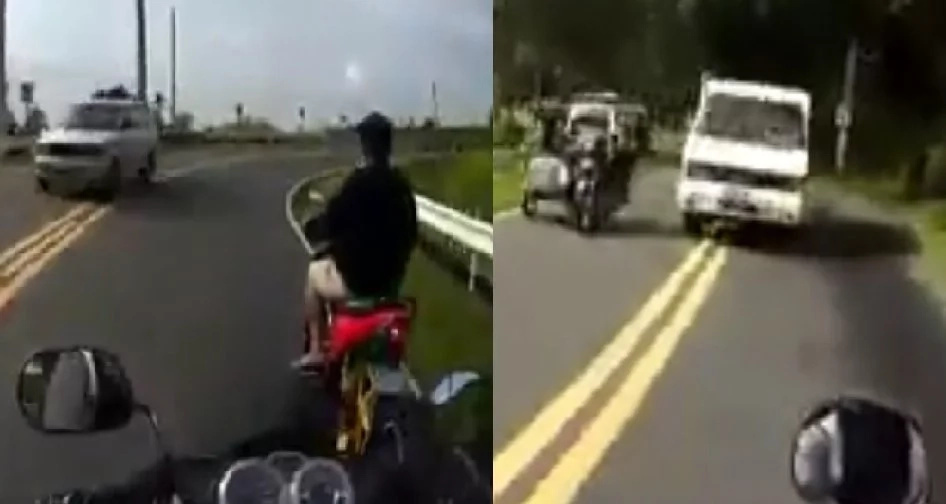 READ ALSO: Suicidal man JUMPS off Metro Manila Skyway!
A few moments later, a raging L300 van is seen trying to counter flow in order to overtake a tricycle.
If not for the cat-like reflexes and the impressive balancing skills of the biker, he would have been hit straight on and killed by the van.
Fortunately, the biker was able to take a screenshot of the L300's plate number.
Netizens were outraged with the reckless driving shown in the video.
"Mga tao nga naman eh hnd makaintindi' kita naman nya na two yellow marked lane eh overtake pa," a netizen wrote.
(These people do not understand that they are not allowed to overtake on a two yellow marked lane.)
READ ALSO: This Cheeky Motorcyclist Has Some Instant Karma Incoming!
Other netizens said that they also counterflow to overtake slower vehicles even on a double yellow lane but only if they are absolutely sure that there is no incoming vehicle.
Several online users also commented about the penalty the reckless driver should receive due to his actions.
"Tangalan nio po yan ng lisensya at wag na irehistro ang sasakyan nyan," an online user posted.
(Take away his driver license and his car registration.)
Other online users who ride bikes gave an advice to other riders.
"Karamihan sa ibang sasakyan, kapag nakita nilang single na motorcycle ang kasalubong, magkacounterflow pa rin kahit alanganin. Kaya sa mga rider, ride safe lang tayo," a netizen said.
(Many vehicles counter flow even if they see a motorcycle approaching. So we have to ride safely on the road.)
SHARE this shocking video with your family and friends!
READ ALSO: Real deadly SWORD FIGHT in Negros caught on VIDEO; watch their heart-stopping battle!
Source: Kami.com.ph