Video of Carabao race went viral
- A video featuring a Carabao race in the Philippines has gone viral on social media
- The video features the riders with their respective carabaos racing for the number one spot
- The video has since gone viral with many netizens being reminded of the colorful culture and traditions of Filipinos
While many people today prefer travelling at the comfort of their own cars, there are those who remain to love the conventional way.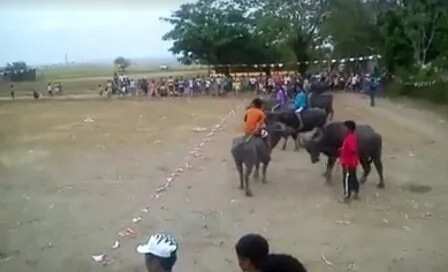 That is riding at the back of an animal to carry your stuff and take you to point a to point b. Although it would take you longer periods of time, the experience is still worth it.
This is also the reason why, in certain areas in Manila, tourists and locals alike still try travelling through kalesa or a horse-driven cart.
READ ALSO: Nakakaloka! Could this be the best version of #TrumpetsDanceChallenge?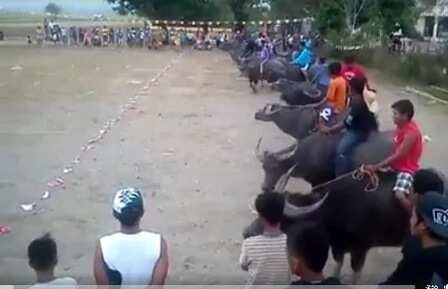 Being competitive is one of the most common traits of Filipinos. This is why, even in the international area, we make names for ourselves. This is also why, many people prefer sports which have something to do with a race for number one spot.
While we often see cars or even animals like horses join a racing competition, it's rare to see carabaos run for the number one spot.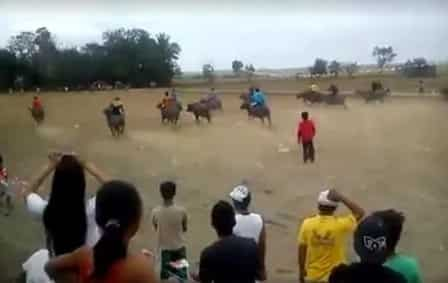 A video featuring a Carabao race in the Philippines has gone viral on social media. The video features the riders with their respective carabaos racing for the number one spot.
READ ALSO: #WalangPuso: This man had his 'cock' pull his cart, what he did is really crazy!
The video has since gone viral with many netizens being reminded of the colorful culture and traditions of Filipinos. Watch the video here.
RELATED: #MeetBudoy: This unbelievable guy entertains passengers in exchange of coins!
Source: KAMI.com.gh