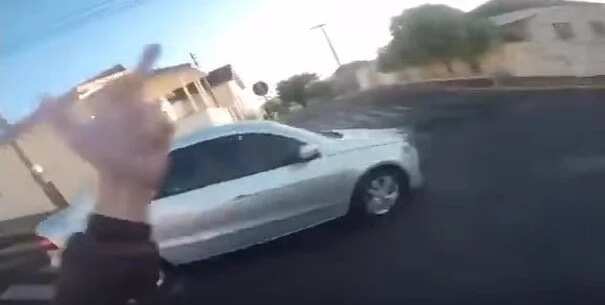 - Motorcycle driver flips off a sedan for stopping at a stop sign
- Just as he passes the car, the motorcycle driver accelerates and drives into a garbage bin. The collision leaves the motorcyclist with a bloodied leg and stranded at the side of the road.
- The whole incident was captured on the motorcycle driver's helmet cam
This rude motorcycle driver was in for some instant karma.
After tailgating a sedan and giving the sedan driver a middle finger for stopping at a stop sign, the cheeky bike rider opens the throttle on his bike. He accelerates and strikes a metal garbage bin with the side of his bike.
Instantly he slams the brakes off his bike, bringing it to a screeching halt. The yelping motorcyclist looks down at his bloodied leg as he crawls off his bike.
READ ALSO: Three half-naked girls climb into this guys work van!
The sedan, meanwhile, slowly passes by and enjoys the moment, as the motorcycle driver stands there whimpering.
Well, at least now he has somewhere to rush to.
READ ALSO: Grandma gets knocked out on bus by younger passenger!
READ ALSO: To prevent Terminator future we must 'innovate conscientiously'
Source: Kami.com.ph