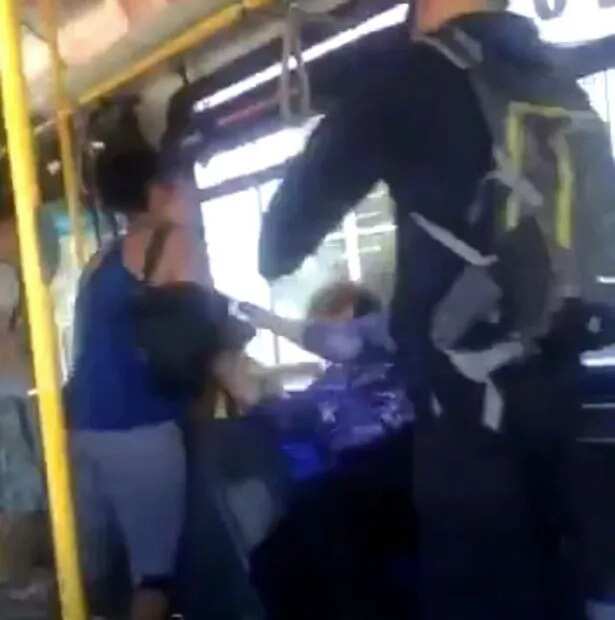 - A grandma and a younger woman were having a confrontation on a bus after the old woman spat in the face of a man in a wheelchair
- After she spat at the invalid the old woman spits into the face of a brawy woman who stood up in his defense
- The younger woman instantly pushes her into a vacant seat and knocks the old woman out with a well placed slap
An old woman seems to be having some sort of tantrum on board a bus after spitting into the face of a man confined to a wheelchair. A brawny woman stands up in defense of the handicapped person as the old lady thrashes and shouts at her.
All of a sudden, she pulls forward and spits in the face of the woman that was defending the handicapped passenger. The female passenger gives the grandma a push. The old woman topples over and falls into a seat. Her younger and burlier and insulted opponent instantly strikes her in the jaw sending the elderly person into a knock out.The grandma unconsciously raises her hands and falls out of her seat, stretched out face down on the filthy floor of the public transport.
READ ALSO: What's It Like To Wear A $400,000 F-35 Helmet?
She lets out a long Wilhelm-like "HHHHAAAAAUUUUUUURRRGGHHHHHH"
Reports state that the conflict began after the old woman didn't want another bus passenger to sit beside her. When a man in a wheelchair interfered, the old woman spat in his face.
Witnesses state despite everything nobody was injured.
READ ALSO: To prevent Terminator future we must 'innovate conscientiously'
READ ALSO: Three half-naked girls climb into this guys work van!
Source: Kami.com.ph