- The Senate is examining the possibility of giving President Rodrigo Duterte emergency powers to address the traffic crisis
- Sen. Grace Poe said that they are ensuring that the emergency powers will not violate the Constitution
- The Department of Transportation seeks to create a Traffic Crisis Manager who will serve as authority over traffic enforcement in the country
Senator Grace Poe, chair of the Senate committee on public services, announced that the Senate is having deliberations on the proposal to grant emergency powers to President Rodrigo Duterte in order to address the problems brought by heavy traffic.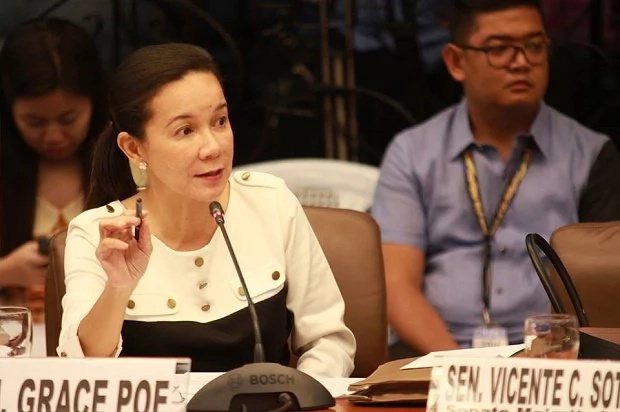 Upon receiving a 64-page document from the Department of Transportation (DOTr) that enumerated 21 transport-related projects that may be undertaken once the executive branch is given the emergency powers, the Senate is eager to finalize its deliberations as long as it's in line with the Constitution.
The emergency powers are targeted to be given before the Christmas rush in the country, which is going to be a real concern for daily commuters.
READ ALSO: PNP Chief Bato dela Rosa claims to be 'richest cop' in PH
Included in the submission of the Department of Transportation was a bill seeking a 3-year grant of the expanded authority for Duterte which will enable the speeding up of infrastructure projects aimed at decongesting traffic in Metro Manila and other big cities.
According to Poe, the Senate has to ensure that the law granting emergency powers will be clear and will not violate the PH Constitution.
"It has to be within the confines of what's legal in the Constitution … We have to make sure also that we have the safeguards in place and all the parameters that are needed to ensure the proper implementation of the emergency powers," said Poe.
READ ALSO: What to expect from Duterte during the ASEAN Summit 2016
Moreover, the main highlight of the proposal of DOTr is the creation of a Traffic Crisis Manager which shall be assumed by the DOTr Secretary. This position aims to centralize traffic enforcement authority.
If the Traffic Crisis Manager will be approved, traffic enforcement powers would be stripped from other agencies such as Metropolitan Manila Development Authority (MMDA), Land Transportation Office (LTO), Land Transportations Franchising Regulatory Board (LTFRB), Philippine National Police (PNP), Local Government Units (LGUs), Toll Regulatory Board, and Philippine Ports Authority.
READ ALSO: China helps in building PH rehab
Aside from these, the Traffic Crisis Manager will also have powers over air and sea traffic managements, therefore removing powers from Civil Aviation Authority of the Philippines, Civil Aeronautics Board, and Manila International Airport Authority.
Source: Kami.com.ph