Netizens react after Obama cancels meeting with Duterte
- Netizens voiced out their thoughts about Duterte and Obama after the latter cancels his meeting with the former at the ASEAN Summit
- This was after Obama learned of Duterte's controversial remarks, calling him "son of a whore" in a conference
- Duterte was speaking as to how Obama should refrain from bringing up the extrajudicial killings during the summit when he delivered the statement
When United States President Barack Obama calls off his side meeting with Philippine President Rodrigo Duterte during the Association of Southeast Asian Nations (ASEAN) Summit in Laos, various reactions from netizens was emitted.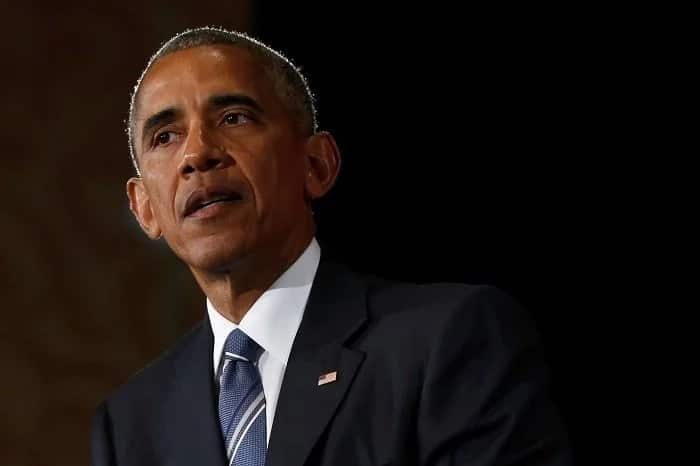 Web users who wrote their thoughts on the comments section of different social media websites were divided – with some defending Duterte, while the other half criticized his outburst.
This occurred after Duterte called the US President a "son of a whore" in the Philippine language. A reporter asked the Philippine head of state on how he would explain the recent events of the country to Obama, resulting Duterte to demand that the former refrain from 'throwing questions and statements' about the killings.
READ ALSO: Netizens go WILD over Duterte calling Obama a 'son of a whore'
"[Or] Son of a whore, I will swear at you at that forum," Duterte proceeded to say.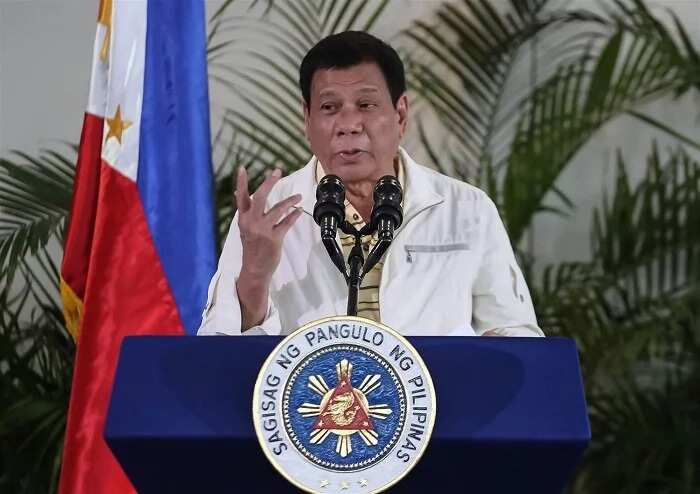 He continued to claim that even 'America has one too many to answer for,' and that it was not only him who had a 'terrible record on extrajudicial killings.'
A number of Filipinos took the side of Duterte and even went far as to claim that Obama would merely 'lecture' the Philippine president during the meeting.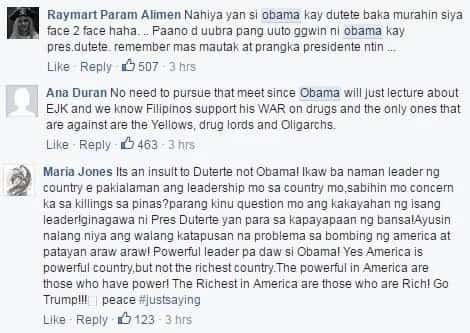 READ ALSO: Obama calls off first meeting with Duterte
Meanwhile, others slammed how the media delivered the news. They compared how local media outlets wrote the headlines to how those from other parts of the world did it. Some even quipped that it was only the media who emphasizes the insult.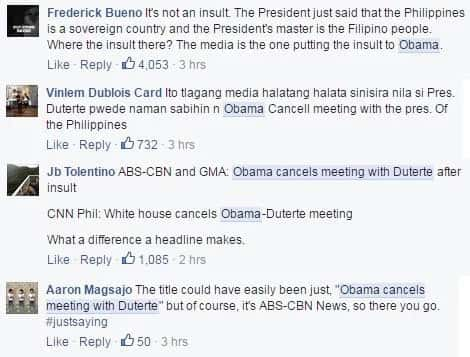 However, there are still several who expressed their disappointment on Duterte's controversial statements. They urged him to think twice before saying something, as it may cause problems for the country in the future.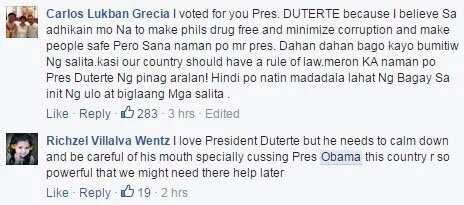 Obama has just finished from attending the Group of 20 Summit in Hangzhou, China when he found out about the remarks.
"I always want to make sure that if I'm having a meeting, that it's actually productive and we're getting something done," he said.
READ ALSO: Business groups support Duterte's PROCLAMATION
Support poured in for Obama following his decision to cancel the meeting. A lot of netizens understood his reasons for calling off the meeting, and advised him to no longer 'waste his time' on trying to speak with Duterte.
It has only been a few months since President Duterte assumed into power but he has already made headlines several times on international media outlets due to his ongoing campaign against the illegal drug trade. Global personalities have called out his methods, urging him to follow due process and to promote human rights.
Source: KAMI.com.gh