- A spokesperson from the White House has announced on Tuesday, September 6, that US President Barack Obama has canceled his supposed first meeting with Duterte
- Instead the American President will be meeting with South Korean President Park Geun Hye - to discuss the response to North Korean missile tests
- This tension between the two presidents - Duterte and Obama - is expected to overshadow the Association of Southeast Asian Nations (ASEAN) and East Asia Summits which will be held in Laos from Tuesday to Thursday
US President Barack Obama had canceled what would have been his first audience with Philippine President Rodrigo Roa Duterte, says a White House spokesman on Tuesday, September 6.
The announcement came after President Duterte had described Obama in vulgar terms on Monday, September 5, a day prior to the scheduled meeting with the US President in Laos.
Reports had it that the Philippine President had said, "P----- mo, murahin kita diyan sa forum na iyan," in a press briefing held in Davao City before he left for the ASEAN Summit.
(S...*expletive*, I will swear at you in that forum.)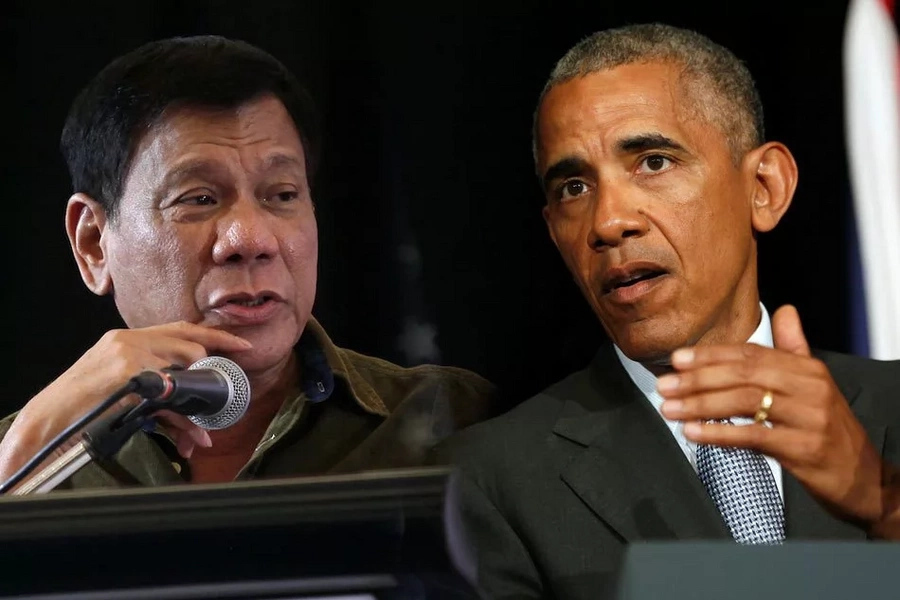 The colorful terms that Duterte had used to describe him reached Obama as he was emerging from the Group of 20 Summit in Huangzhou, China, where he told his aides to speak with their counterparts in the Philippines "to find out if this, in fact, a time where we can have some constructive, productive conversations."
READ ALSO: Business groups support Duterte's PROCLAMATION
Obama had also told reporters, "I always want to make sure that if I'm having a meeting, that it's actually productive and we're getting something done," leaving little doubts that the meeting between the two leaders would proceed as planned.
Obama had also acknowledged the need for campaigns against drugs but pointed out that such initiatives should be done under the rule of law.
According to Obama, "We recognize the significant burden that the drug trade play is not just in the Philippines but around the world and fighting narco-trafficking is tough, but we will always assert the need to have due process and to engage in that fight against drugs in a way that's consistent with basic international norms."
READ ALSO: Obama to Duterte: Is this the right time?
Instead of meeting with Duterte on Tuesday, Obama is now set to meet with South Korean President Park Geun-hye, said Ned Price, spokesman for the White House National Security Council. During the meeting, Obama and Park are expected to discuss the response to North Korea's latest missile tests, he added.
Obama had arrived in Vientiane just before midnight on Monday, for the first visit by an incumbent U.S. president to Laos, where he wants to address the legacy of U.S. bombing during the Vietnam War.
Setting the stage for three days of meetings with regional leaders, Obama was also set to give an address on the importance he has placed on Southeast Asia in his foreign and economic policy during his two terms in office, which will be ending on January 20.
READ ALSO: Duterte to Obama: 'You must be respectful'
ASEAN Summit
The unusually open tensions between Obama and Duterte has come as a threat that is expected to overshadow the Association of Southeast Asian Nations (ASEAN) and East Asia Summits in Laos from Tuesday to Thursday.
The 10-member ASEAN Summit agenda includes meeting with leaders of other regional powers: China, Japan, South Korea, Australia, India, Russia, and the United States - which has been a key ally in the ongoing dispute with China over the West Philippine Sea territories.
An arbitration court in The Hague in July invalidated China's vast territorial claims to the waterway though rival claims from countries including Brunei, Malaysia, Taiwan, and Vietnam had remained even after the case brought by the Philippines to the arbitral tribunal has been won.
READ ALSO: What to expect from Duterte during the ASEAN Summit 2016
Duterte had also said last month that he was expecting support on the arbitration court's ruling from all ASEAN members, but that the issue would not be raised by the Philippines in Laos.
RELATED: Duterte willing to talk to Obama only if the US president listens to him first
Source: Kami.com.ph