- The Davao bombings have claimed the lives of 14 people and injured more than 60
- Chris Chug criticised the government for knowing about the attack and doing nothing to prevent it
- A facebook page named after Baste Duterte responded by saying that the post was insensitive and heartless
A facebook page named after President Rodrigo Duterte's son Baste bashed his father's haters for being insensitive to the Davao bombings.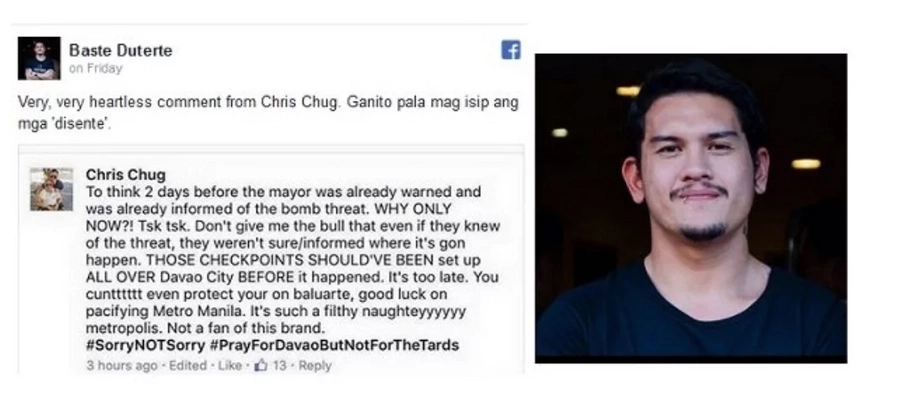 On his Facebook status, Chris Chug criticized Davao Vice Mayor Paolo Duterte for failing to set up security checkpoints around Davao after being informed of a bomb threat. He claimed that the Mayor knew about the bombings 2 days before the incident and still did nothing to prevent the deadly attacks.
READ ALSO: Old lady in black warned people in Davao night market minutes before the explosion
"To think 2 days before the mayor was already warned and was already informed of the bomb threat. WHY ONLY NOW?!" Chug posted on his facebook.
"It's too late. If you cuntttttt (sic) protect your own baluarte, good luck on pacifying Metro Manila. It's such a filthy naughteyyyyy metropolis. Not a fan of this brand. #SorryNotSorry #PrayForDavaoButNotFortheTards" Chug further said.
In response, Baste's facebook page, which is allegedly created by the President's son's fans, retorted saying "Very very heartless comment from Chris Chug. Ganito pala mag-isip ang mga disente (This is how dissenters think)."
The facebook post of Baste's page has been shared more than 17 thousand times. ­­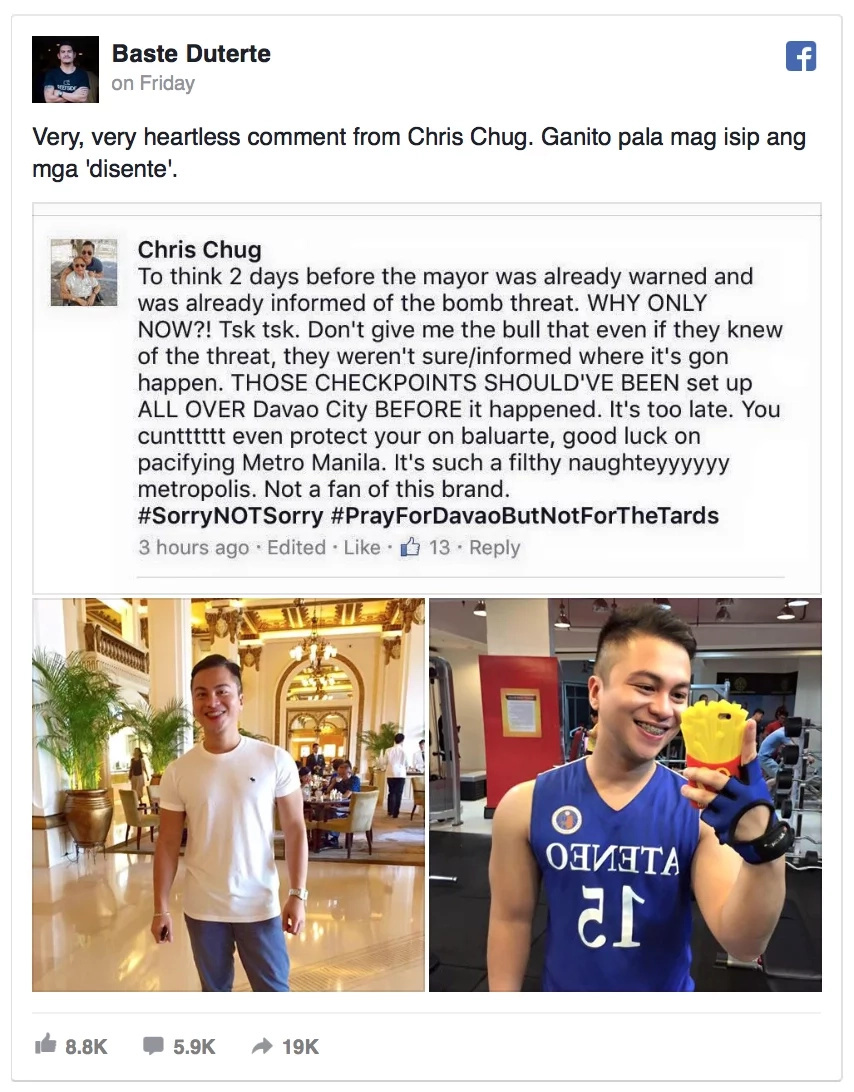 READ ALSO: Official declaration 'state of lawlessness' out Monday – Duterte
The post of Chris Chug came after the bombings at a night market in Davao City killed 14 people and injured more than 60.
Several conspiracy theories have surfaced, with some claiming that the bombings were orchestrated by the Liberal Party.
Others claimed that the market was bombed in order to provide Duterte a basis to declare Martial law.
However, Philippine National Police Chief "Bato" Dela Rosa promised that the government had nothing to do with the bombings.
The terrorist group Abu Sayyaf has claimed responsibility for the attacks.
READ ALSO: Travel alert! Five countries warned travelers against traveling to parts of Mindanao
Since the event, Davao City mayor Sara Duterte-Carpio has put a P2-Million bounty on the heads of the masterminds behind the deadly attack.
President Rodrigo Duterte has also declared a state of lawlessness, increasing police and military presence for the security of the country.
Source: Kami.com.ph