- Actress Solenn Heussaff replied to the netizen who called her out for ignoring the Davao City bombing incident
- The basher also questioned the actress' talent and intention for staying in the Philippines
- Other web users wrote comments to the defense of Heussaff to which she was thankful for
Social media became an avenue for fans to communicate with their favorite celebrities. However, it also opened the doors for internet trolls to hate on everything they do.
Nevertheless, instead of ignoring them like most artists do, Solenn Heussaff defended herself against a basher who accused her of ignoring the bombing incident in Davao City.
The conversation took place under Heussaff's Instagram post which thanked the people behind her recently-launched fitness book, 'Hot Sos.'
READ ALSO: Solenn Heussaff exposes skin in sizzling semi-nude photo
Instagram user @realinetrue posted 3 different comments – all criticizing the French-Filipina. She first cited the #PrayForFrance hashtag which Heussaff supported due to the mass shooting tragedy.
The hater also accused her of being one of the "white people" who only stayed in the Philippines to amass wealth but doesn't really care about the welfare of the country.
She also mocked the actress-singer's ability to speak in Filipino and asked her to move back in France.
READ ALSO: CONFIRMED: Georgina Wilson is pregnant!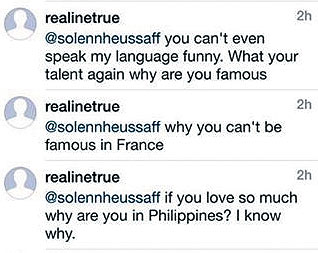 Heussaff didn't back down as she posted lengthy comments addressing the person who was trying to tarnish her image and intensions.
According to her, the netizen obviously did not know what she's talking about since she was really a Filipino to begin with. In addition, she explained that it's her prerogative to not post every opinion she has on social media.
Lastly, she called out the user to not call her names when she's being mean herself.
READ ALSO: Isabelle Daza celebrates fun bachelorette party with friends in Bali
All of the hater's comments have been deleted since then.
Other web users also showed their support to the actress by reminding the basher that if she doesn't have anything to say nice, then might as well not comment at all.
The socialite also took the time to thank her fans for understanding her point of view.
This wasn't the first time that Heussaff answered back to hateful people on her social media accounts. Just recently, she slammed a Twitter user who expressed ill wishes against her brother and Anne Curtis' boyfriend, Erwan.
READ ALSO: Gandang 'di mo inakala: 7 gorgeous Pinay celebrities THEN and NOW
Solenn Heussaff has a Filipina mother and a French father who supported her craft in make-up, fashion designing, acting, and painting.
Source: Kami.com.ph