- Liza Soberano is currently the most in-demand Kapamilya actress, who has caught the attention of not just local male celebrities but international male acts as well
- The 'Dolce Amore' star has attracted more fans as her thoughtful off-cam gesture to Kathryn Bernardo went viral online
- Soberano and Bernardo are regulars on ABS-CBN's noontime variety show 'ASAP', which recently staged a live show in New York 
It is in the details that we find something noteworthy - in this case, the sweet off-cam gesture of friends to one another.
A viewer was able to capture Liza Soberano's act of kindness by taking a fan's gift to his or her intended artist when the show had a fifteen-minute break.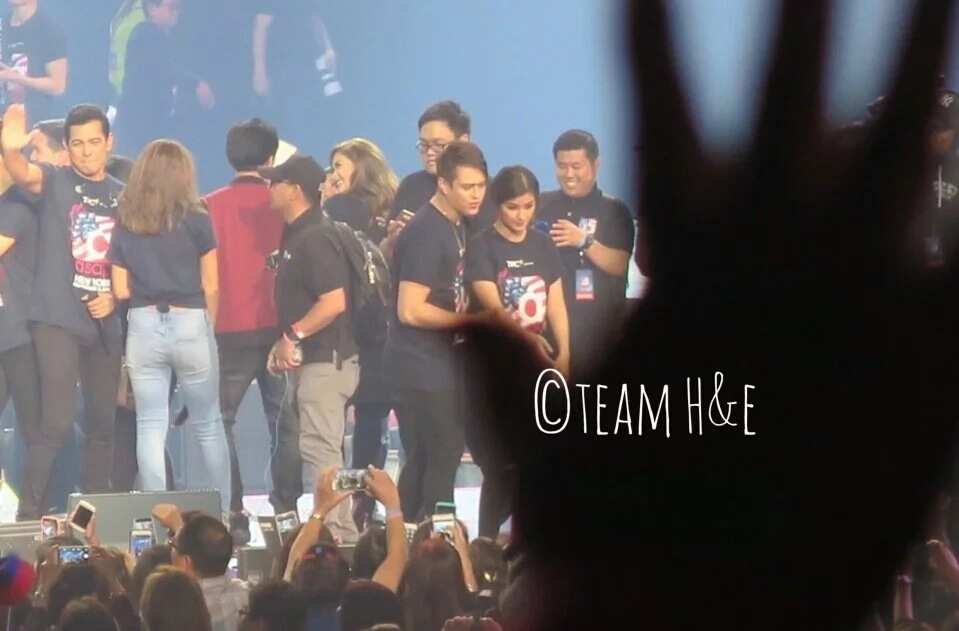 (photo credit: twitter.com/hanley_gil)
It was during the September 4 live episode of 'ASAP' in New York when all of its talents, dressed in black, waved to their fans as the show was about to enter its third production number. Some of them hugged each other on stage while others briefly interacted with their fans on the front row.
READ ALSO: Enrique Gil explores New York with another woman, and it's not Liza!
The 'Dolce Amore' actress took the intermission to catch up with her co-star and partner Enrique Gil until they talked to the fan who had a gift for one of her colleagues.
(photo credit: push.abs-cbn.com)
The fan reached out the gift, which was in a huge pink paper bag, to her and she handed it out to Kathryn Bernardo.
In the clip, it can be seen that she pointed out the fan to the 'Barcelona: A Love Untold' star who waved in return and thanked him or her for the gift.
READ ALSO: 5 times Liza Soberano proves she's perfect inside and out
The video, which is a minute and a few seconds long, has been viral on Twitter as Bernardo's fans expressed their gratitude to the young actress.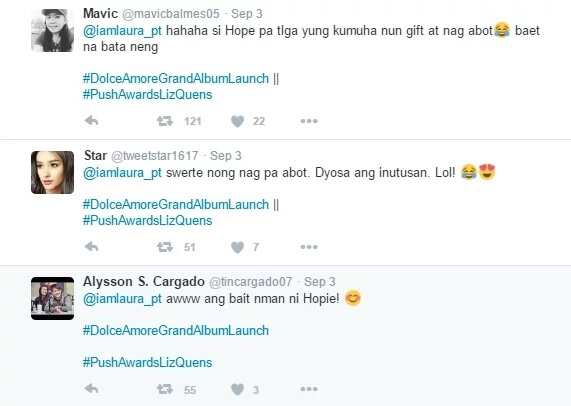 The two Kapamilya actresses were included in the Independent Critics List's '100 Most Beautiful Faces of 2015', with Bernardo taking the 80th spot while Soberano was its 6th.
Bernardo's film, 'Barcelona: A Love Untold', will be released on September 14, Wednesday, in theaters nationwide. Soberano, whose soap opera has recently finished, is the latest face of Maybelline.
READ ALSO: Top 10 most followed Pinay celebrities; who tops the list?
Source: Kami.com.ph