- Facebook user shared photos of a lady wearing high heels while cleaning the streets
- Other netizens praised her in the comments section
- Some have commented that she has always worn stylish clothing whenever she cleans
On September 4, Yangkee Pressman shared three photos of a woman cleaning the streets. The photos show how positive and unique Filipinos truly are.
In the photos it can be seen that the cleaning lady is wearing colorful clothing and also a pair of high heels that seem to be around 4-5 inches in height.
She shared that while she walking towards "Ayala Malls" in Legazpi, she was awestruck upon seeing this fierce lady with her unique outfit sweeping the streets.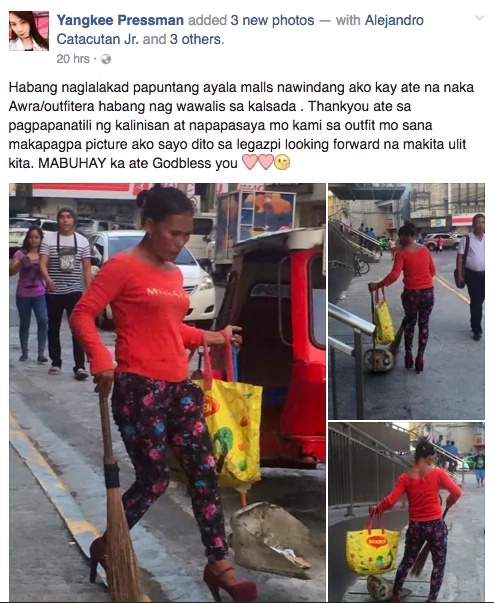 READ ALSO: This piglet in Ilocos Norte effortlessly walks with only two legs!
Pressman also thanked her for helping the environment by cleaning and for making her smile with the lady's outfit. She also hoped that she took a picture with this cleaning lady and she hopes to see her again.
After just a few hours, her post went immediately viral on Facebook with around 11 thousand likes, 3 thousand shares, and 300 comments as of posting.
Many netizens were entertained and delighted to see this lady in high heels. Most of the comments were positive remarks towards her.






READ ALSO: CUTE stray dog is a staff in a QC school!
She truly embodies the most common and overused phrase in the Philippines now – Pak Ganern!





According to some commenters, she has always been stylish when cleaning and that sometimes she even wears fashionable boots. As can be seen in the photo, some of the passersby seemed unfazed by her appearance, which affirms the fact that she's always in high heels.



We're pretty sure that this photo will soon be turned into a meme.


READ ALSO: Their version of 'Pak Ganern' went viral; what they did is a proof that #forever exists!
One netizen shared that she was so inspired by her story that she wants to donate a pair of heels and some fashionable clothes to her.

Other people followed suit and wanted to send her more clothes and shoes!



People want to meet her because the fact that she has remained stylish with a dirty job like cleaning is truly commendable. It's not easy walking in high heels, let alone sweeping and picking trash!

READ ALSO: These "Nagmahal, Nasaktan" memes will make you say LOL!
Source: Kami.com.ph