- Videos of a Filipina girl trying out the "Kylie Jenner Challenge" to make her lips pouty went viral
- Instead of having beautiful and luscious lips, the Pinay's face became temporarily disfigured
- The online community found the two videos both funny and horrifying at the same time
Videos of a Filipina trying out the so-called "Kylie Jenner Challenge" and getting disfigured in the process had gone viral, with netizens finding the clips both shocking and hilarious.
The Kylie Jenner challenge involves placing a shot glass over one's lips and sucking the air from inside the glass in order to have pouty and luscious lips.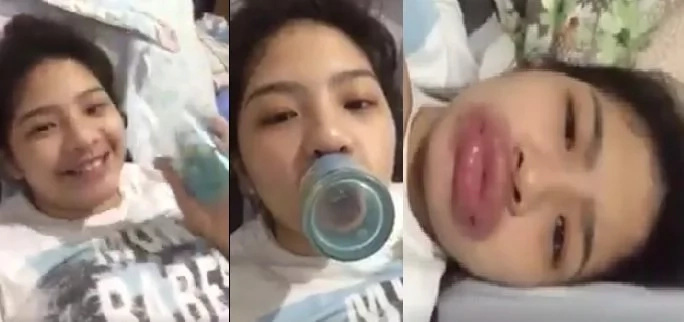 READ ALSO: CUTE stray dog is a staff in a QC school!
The Pinay shared two of her videos. The first one shows the girl feeling very optimistic about doing the Kylie Jenner challenge, probably thinking that the challenge would produce amazing results for her lips.
The second video is the shocking and hilarious one, as the Pinay showed that the results were not amazing but horrifying and gross!
The Kylie Jenner Challenge left her lips disfigured but only temporarily. According to health experts, sucking on a shot glass will have mild and temporary damage on the lips if it is done for only 30 seconds.
However, doing it for more than a minute could cause long-term damage. There have been cases where teens had their blood vessels in the lips broken after trying out the Kylie Jenner challenge.
READ ALSO: Husband and wife plays "Pak Ganern" game and seals it with kisses
Many netizens were amused and horrified at the same time at what happened to the Filipina.
Several online users felt sympathy for the girl while others felt that she deserved to be temporarily disfigured.
Some netizens also pointed out that the video shows the possible negative effects of being too worried about one's physical appearance and the importance of being happy and contended despite having plenty of flaws and imperfections.
SHARE these hilarious videos with your family and friends!
READ ALSO: This guy gets into the tub full of hot sauce. What's next? A priceless lesson for everyone!
Source: Kami.com.ph