- The Philippine Red Cross said that they did not release any advisory urging the public to refrain from going to malls because of security threats
- According to the organization, only the office of the Chairman or the Secretary General may issue official advisories to the public
- Red Cross then urged the public to be more critical with the information they believe in and continue to remain vigilant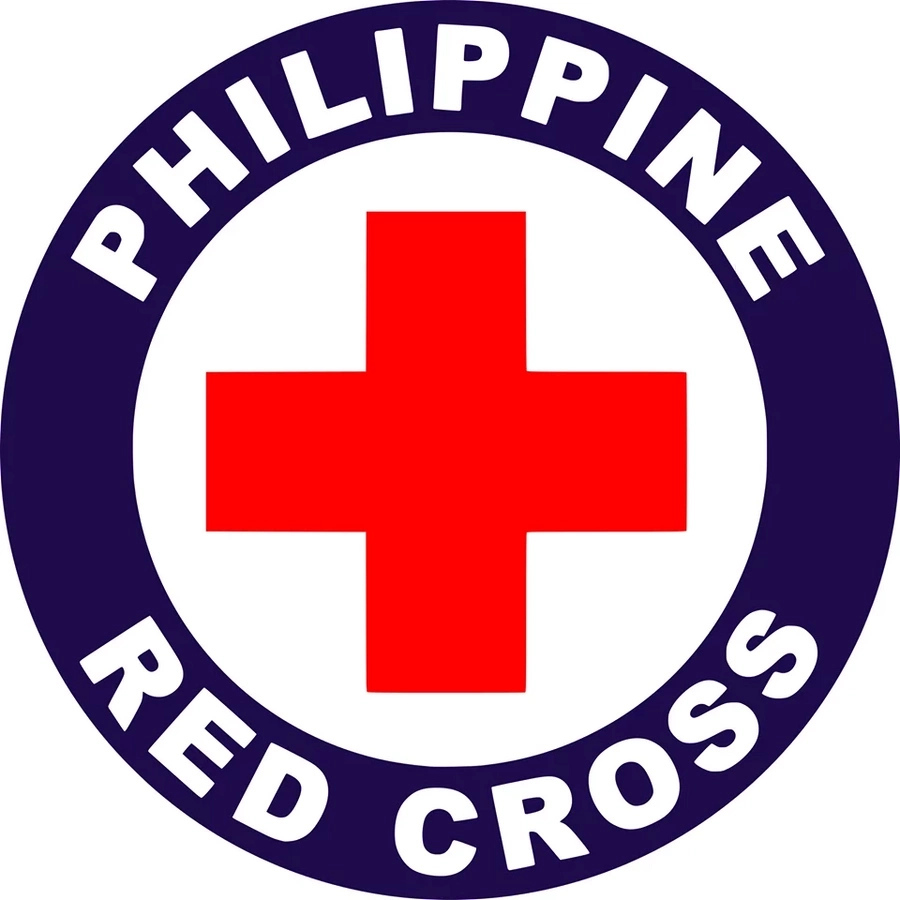 On Sunday, The Philippine Red Cross denied allegations of the organization sending messages on social media platforms urging the general public to avoid going to shopping malls due to security threats.
In its official Facebook page, the humanitarian organization issued a statement denying their involvement in warning the public against going to malls through social media or private messaging.
"The Philippine Red Cross has not sent out text messages, private messages via Facebook, or other social media platforms warning the public against going to malls due to a security threat", the posts said.
ALSO READ: A DEVASTATED husband wants to join war against ASG to avenge wife killed in Davao bombing
According to the PRC, official advisories may only come from the offices of either the Chairman and Chief Executive Officer Sen. Richard Gordon or from the Secretary General Gwendolyn Pang.
Also, Red Cross said that advisories that involve safety measures against bomb threats can only be produced by the national government and other security forces.
"Please be prudent in believing and sharing such unverified information that may cause unnecessary panic and fear," Red Cross advised.
ALSO READ: Public transportation systems, stations on full alert status after state of lawless violence declaration
PRC then turns to call on the public to be keen and stay vigilant as they go about their day to day.
"Let us all continue to be reflective, deliberate and calm. Let us do our share by being constantly vigilant and alert as we continue with our daily lives".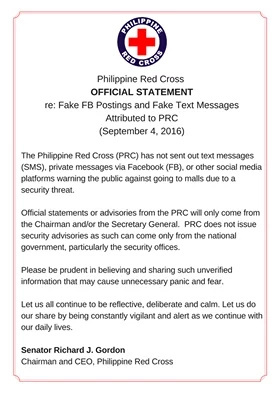 ALSO READ: IT WAS ALREADY PLANNED! Panelo says on state of lawlessness
After the bombing incident at the Roxas night market in Davao City, President Rodrigo Duterte immediately declared and placed the entire country under a state of lawlessness where the Philippine National Police and the Armed Forces of the Philippines went on full alert, manning public places in every city.
The declaration by Duterte was made effective immediately after the explosive device claimed the lives of 14 people and injured 67 others in Davao City late Friday.
A group affiliated with the Abu Sayyaf Group has claimed responsibility for the bombing.
Source: Kami.com.ph