- Althea Barbon, a four-year-old girl, was killed by policemen during an undercover drug operation
- Althea was riding a motorcycle with his father – a drug suspect – when they were shot dead by the police
- The policemen involved said that they did not see that there was a child riding with the drug suspect
Pim Alrick Barbon, 31, and his four-year-old daughter, Althea Fhem Barbon, were killed by the police during a drug operation on Laren Street, Barangay Poblacion, Guihulngan City.
According to the child's grandparents, the father and daughter were on their way to Freedom Park to spend some quality time together. They added that Althea – a kindergarten student at the Gucce Learning Center – even asked for P20 so she could buy popcorn at the park.
READ ALSO: 4 Filipinas who CHALLENGED Duterte's war against drugs!
Police said that Alrick was one of the most notorious drug suspects in Guihulngan City, Negros Oriental. Guihulngan police chief Supt. D'Artagnan Denila Katalbas Jr. explained that it was not their intention to kill a child during the operation.
"We regret a lot that [a child was killed] when she was not the target," the city police chief said.
He added that they would have canceled the operation if they only saw the child.
"Had we seen the child, we would not have pushed through with the operation… We policemen, are humans; we are not animals," Katalbas explained.
Althea is the second child to have died during the drug war. The first one was Danica Mae Garcia, a 5-year-old girl killed in the crossfire by a gunman who was targeting the child's grandfather accused of being involved in illegal drugs.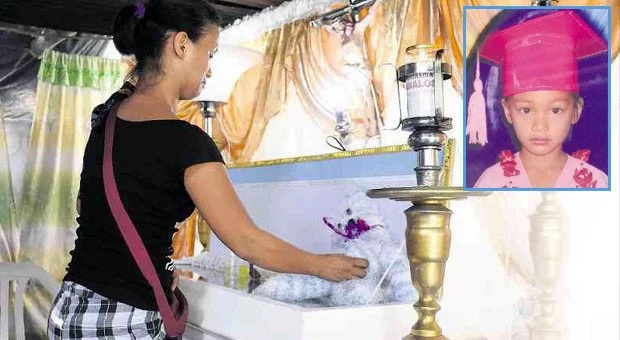 READ ALSO: Duterte declares 'State of lawlessness' nationwide to protect PH!
According to the police report, Alrick was riding on a motorcycle with his daughter when he met with two undercover cops to sell P500 worth of shabu. The cops claimed that they did not notice Althea riding the motorcycle with her father.
The report added that when Alrick found out that the two men who were trying to buy shabu were actually policemen, he drew his gun which prompted the cops to shoot him dead. Althea was caught in the crossfire.
However, the grandmother is not buying the contents of the police report. She said that Alrick would not have tried to fight back knowing that his daughter was with him.
"A father would do everything to protect his child. The police were talking nonsense," the grandmother said in Cebuano.
The grandfather also pointed out that the policemen's version of the story is impossible because both Alrick and his daughter were shot in the back. Initial reports also showed that Althea was sitting in front of her father on the motorcycle.
"We want that Althea be given justice because she had nothing to do with her father's sin, if there was any. She was innocent," the grandmother pleaded.
The administration of President Rodrigo Duterte has received criticisms from both local and international sectors about the spate of drug killings in the country since he assumed office. Senator Leila de Lima is leading the Senate inquiry regarding the deaths both in legitimate police operations and in summary executions.
READ ALSO: Boy Abunda clashes with Robin Padilla on celebrity drug testing
Source: Kami.com.ph