Stray dog has own ID, allowed to enter QC school
- Facebook User, Aloerah Dee Macalalad posted two photos of a stray dog with and ID
- According to her, Colegio de San Lorenzo in Quezon City allowed the stray dog to enter and even made a staff ID for it
- Netizens were delighted upon seeing the cute dog
In the Philippines, there are a lot of stray dogs roaming the streets. Normally, some are just looking for something to eat, wandering endlessly with their comrades or most of the time just alone.
People tend to fear some of these dogs because some can get violent, but there are also factors of abuse from some kids and adults that have affected these dogs behavior towards humans. Some even hunt stray dogs so they can kill them and eat them for their pulutan.
On September 3, 2016, Aloerah Dee Macalalad posted two photos on her Facebook account that may just be the start of a change in treatment of stray dogs in the Philippines.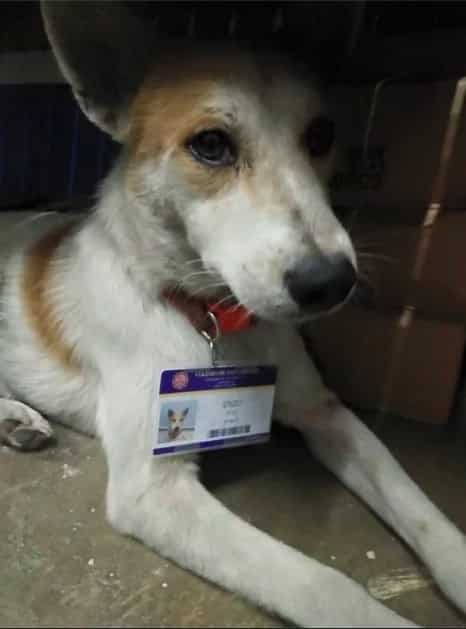 READ ALSO: VIDEO: This Pet Groomer's Love for Animals is the Most Adorable Thing You Will See
At first, it seemed strange that a stray dog is wearing an ID but she also tells the whole heartwarming story.
Macalalad is a student at Colegio de San Lorenzo located at Congressional Avenue in Quezon City. She saw a cute stray dog at her school with a staff ID with the name "Enzo" on it. Enzo even has a picture on it!
According to one of the netizens who reposted the photos, the school has allowed the stray dog to enter the campus and he's also allowed to "mingle with the students."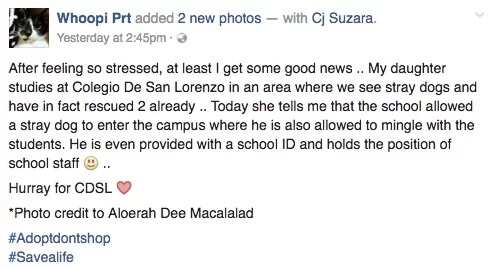 READ ALSO: These puppies are identical dog twins, the first pair known to the science!
Netizens expressed their happiness upon seeing the stray dog. Overall, they just adore the cuteness of Enzo.





One commented that she wanted to be classmates with him. We would love that too!

Someone joked that Enzo should be given a uniform as well because he's now a staff and of course, staff shouldn't be naked.

READ ALSO: Man miraculously rescues pet DOG from being EATEN alive by a giant SNAKE!
Junnell Guia was so amazed that she hopes that schools will also follow it across Metro Manila.

Facebook user, Judy Lim, commended the school for teaching kids good values and she also hopes that more will follow suit with this "act of kindness."

We do hope that other people follow suit in treating stray dogs with kindness. – Kami Media
READ ALSO: New research shows that dogs are smarter than you think!
Source: KAMI.com.gh