Angel Locsin is one of the most famous stars in the showbiz industry right now. Her journey as a teenager discovered at a shopping center to a full-time actress, model, and even producer is truly inspiring.
Angel Locsin started out at GMA Network and since then, she has been a staple TV actress. Under her contract with GMA, she became Darna, Alwina from Mulawin, Sabina from Majika, and many many more.
In 2007, she switched to ABS-CBN and her film and TV careers skyrocketed even more. Besides her sheer talent, hard work, and determination, here are 21 more reasons why her fans love her so much.
READ ALSO: Angel enjoys spending time exploring the beauty of Batangas…and it's STUNNING!
1. Doesn't look her age!
Can you believe that Angel is already 31 years old? She turned 31 last April 23.
2. Looks good wearing anything
Whether it is a bikini, a long gown, a Darna costume, or even a casual outfit, she definitely rocks it. It also helps that she's innately stylish.
3. Crush ng bayan
Did you know that Aljur Abrenica, Derek Ramsay, Colby Miller, Enrique Gil, and even the new PNP chief Ronald 'Bato' Dela Rosa all have a crush on our dear Angel?
READ ALSO: Fans rejoice as Angel Locsin reprise Darna role
4. One of the boys
Angel can be as tough as the boys as she also enjoys Muay Thai, wrestling, CrossFit, boxing, weight lifting, and even firing.
5. Pet lover
She has a cute white Bichone Frise with an equally cute name: Pwet-pwet!
6. Adventurous and nature lover!
Angel loves to go hiking, trekking, diving, and exploring the unknown.
READ ALSO: Angel Locsin is back as Darna!
7. Not an entitled snob
What people love about Angel is that she's not a snob. During the last elections, she lined up like any other person would. She didn't need to be treated as VIP and she even obliged to take photos with fans and even talked to them!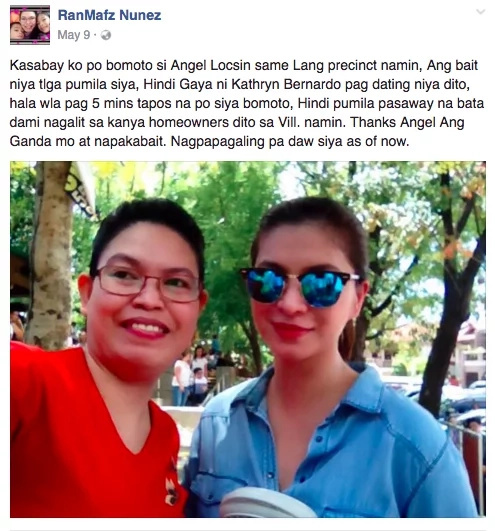 8. Positive-thinker
Last year, Angel faced one of her biggest challenges yet: her spine was damaged. This meant that she had to give up the Darna role and that she had to undergo tests, surgeries, and many more that will definitely have an impact on her career. She didn't succumb to these obstacles but instead pushed through and look at her now!
9. Loves to pop bubble wrap!
Her favorite thing in the world is to pop bubble wraps! Artists like Julia Montes even gave her some as a present. She had to stop doing however when she realized that it's not environment-friendly. She's just the perfect person!
READ ALSO: Angel Locsin says she is willing to play Darna
10. Enjoys playing in the rain
Angel lets her inner child go wild when it rains. She dances and plays in the rain with her friends to de-stress and have fun of course.
11. Candid with friends
It's always a good time when you get to hang out with Angel and that's because she's always real to her friends. Sometimes even too real and candid that she doesn't care how she looks in the photos.
12. Never forgets her best friend
No matter how famous she has gotten, she hasn't forgotten her non-showbiz best friend.
READ ALSO: Making things clear: Angel Locsin is NOT seeing or dating anyone
13. Loves family more than anyone
Family bonding always comes first.
14. Befriends normal people
Many fans can attest that Angel is a genuine person who likes to mingle with anyone.
15. Volunteers for important causes
She helps the needy in whatever way she can even if it's just donating blood.
READ ALSO: Angel Locsin's busy 'cleanin' out her closet.' Actress deleted all Luis photos in Instagram account.
16. Never forgets where she came from
Recently, she shared a throwback post of when she used to act in GMA network's Mulawin. It just shows that even if she's in ABS-CBN now, she hasn't forgotten her roots and the people who made her successful.
17. Never fails to goof with staff
The staff in whatever project she's in love her because she's very easy to work with.
18. Lolo's girl
Angel loves her 89-year-old grandfather so much.
READ ALSO: Find out what Angel Locsin has to say on Maine Mendoza's new look!
19. A fangirl to other celebrities
She is so down-to-earth that she admits that she's star struck upon seeing celebrities like Ruffa Gutierrez, Maine Mendoza, Donna Cruz, Jodi Sta. Maria, and many more.
20. Stayed classy during Luis-Jessy controversy
Throughout the messy ordeal of Luis Manzano and Jessy Mendiola issues, Angel stayed classy, didn't leave any nasty comments, and just moved on.
21. She'll always be Darna!
It's so good to hear that Angel Locsin will be Darna once again because no one can do Darna better than her.
READ ALSO: 10 most beautiful celebrities in the Philippines; who's number 1?
Source: Kami.com.ph