- In a viral Instagram video, Whang-Od was recorded asking Coco Martin to visit her hometown in Kalinga
- The oldest tattoo artist from Buscalan even wore a shirt of Martin's show and expressed her admiration for the actor
- Whang-Od was being reviewed as a National Living Treasure of the Philippines
It was no surprise that Coco Martin has fans of all ages given his prowess in acting.
However, the latest addition in his supporters was a stand out because she is no other than Whang-Od. The oldest tattoo artist of the Philippines expressed her wishes to meet the actor in person.
In a 52-second video of Whang-Od which was posted on Martin's Instagram account, the native of Buscalan, Kalinga urged him to visit their place. The online hit has garnered more than 40,000 views as of writing.
READ ALSO: Janine Tugonon to walk Victoria's Secret Fashion Show?
The uploader of the post also recalled how she was even wearing a t-shirt of the actor's high-rating show, 'Ang Probinsyano' when they met her.
In the end, they urged fans of both Whang-Od and Martin to share the post until the two will have a chance to meet each other.
The people were generous enough and even gave the suggestion of shooting the actor's show in the tattoo artist's hometown.
READ ALSO: 4 Filipinas who CHALLENGED Duterte's war against drugs!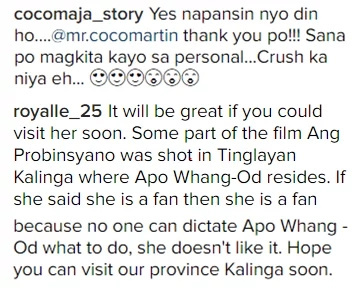 Even prior to the viral video, Facebook user Leah Belarmino already posted a photo of Whang-Od with the same request.
This year, the traditional Kalinga tattooist or called as the last mambabatok is being reviewed as a candidate in being a National Living Treasure by the National Commission on Culture and Arts.
Several personalities including actors and even foreigners would travel all the way to Kalinga for Whang-Od to tattoo them with her ink – made out of the mixture of charcoal with water. She has been practicing her profession for more than 80 years now without administering anesthesia just like how it has always been.
READ ALSO: Liza Soberano shames basher with wrong spelling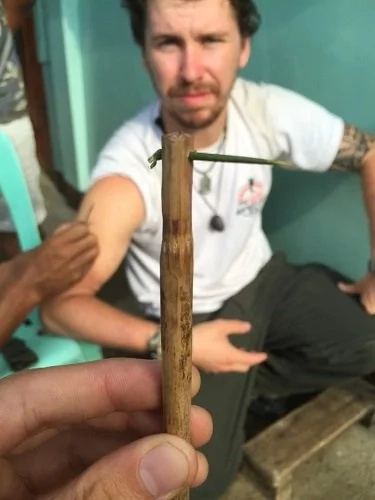 Although she is considered now as a tourist destination for others, people who have encountered her advised everyone to treat her as the living legend that she is instead of putting cameras right before her face.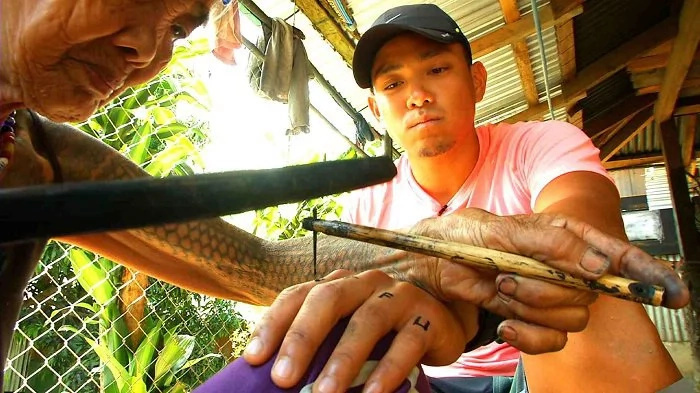 Most of her visitors also bring simple gifts like food and other basic necessities aside from paying her fee which ranges from P400 to P1000.
Even those who were fascinated with Whang-Od still reminded future goers that although she uses different needles on each client, the cloth she uses to wipe of excess blood isn't changed regularly.
Source: Kami.com.ph