-  ABS-CBN's noontime show 'It's Showtime' has recently added 'Showtime's Next Tough Model' as another segment to its three-hour running time 
- Host/judge Anne Curtis compared a significant other to a burp, which went viral 
- One of the co-hosts, singer/actress K Brosas, shared the same answer as Curtis but answered with more humor 
What did Anne Curtis say again?
The September 1 episode of ABS-CBN's noontime show 'It's Showtime' became an online trend when Curtis, who serves as one of the show's hosts/judges,  made a comment regarding one of its segment's question-and-answer portion.
Hosts Vhong Navarro and K Brosas bantered on 'Showtime's Next Tough Model' before they asked Jane Usison, who became the winner of that day's contest, the question she will be answering.
READ ALSO: Vice, Vhong spill out #hugots during Showtime; WATCH how Vhong told Vice not to be choosy!
Usison picked 'Dighay', which is Filipino for 'burp', and was asked if whether she would burp for friends or her significant other.
But before the contestant can answer, Navarro already shared that if he chose to burp for a partner who cheated on him, it was the equivalent of a heartburn. Brosas agreed before Curtis jumped into their banter.
(photo credit: entertainment.abs-cbn.com)
"Ako mas pipiliin ko siguro kaibigan. Kasi ang jowa parang dighay, it comes and goes," she stated.
READ ALSO: Top 10 most followed Pinay celebrities; who tops the list?
(I think I would rather pick friends. A boyfriend is like a burp, it comes and goes.)
However,  Curtis' answer does not mean that the 'Bakit Lahat ng Gwapo May Boyfriend' actress is replacing her long-time boyfriend, chef/blogger Erwan Heussaff.
Everyone was amused with her answer but Navarro countered her by asking what if the burp came from the buttocks instead. Curtis just laughed before the male host turned to his female co-host again.
READ ALSO: A throwback to the celebrity shouting matches: Which side of the feud are you on?
Brosas shared that she would pick burping for her friends since she is not currently in a relationship.
"Marami akong kaibigan, 'yun lang, wala akong jowa so pipiliin ko kaibigan kasi magkaibigan, pwede kayong magdighayan," she said.
(I have a lot of friends but sadly I do not have a boyfriend so I would rather pick friends because with them, you can burp freely.)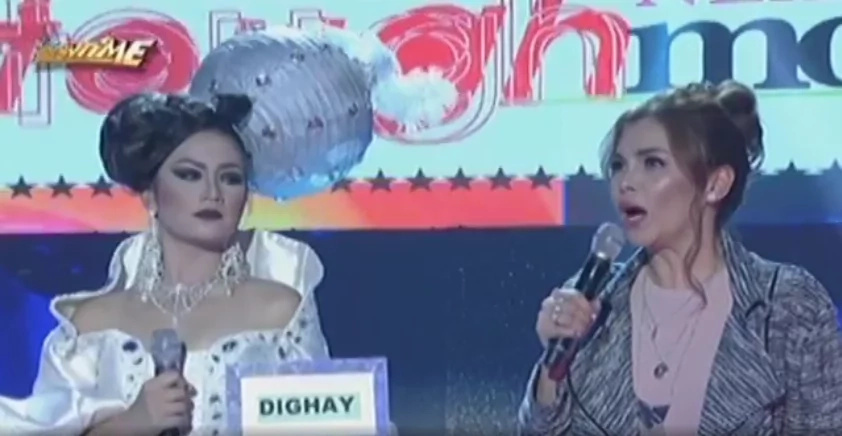 (photo credit: entertainment.inquirer.net)
The audience laughed at her response, which Navarro added to: "Dighayan ng regalo" ('burping' of gifts).
'Showtime's Next Tough Model' is one of the noontime show's latest segments where all genders aged 18 to 25 can join as long as they have what it takes to own the catwalk and show their sass.
READ ALSO: Guess who played Pak Ganern in 'Showtime' which made the crowd explode
Source: Kami.com.ph