- The bandit group Abu Sayyaf denied it was behind the blasting in Davao City
- Abu Sayyaf spokesperson Muammar Askali pointed to a group's ally which he said was behind the explosion
- The Davao blasting killed 14 people and left 67 others wounded
The Abu Sayyaf Group (ASG) on Saturday disowned the explosion that left 14 people dead and 67 others wounded at the Davao City night market on Roxas Avenue, Friday night.
According to the bandit group's spokesperson, Muammar Askali also known as Abu Ramie, an ally of Al Harakatul Al Islamiya, Abu Sayyaf's official name, was behind the explosion.
Askali tagged the group Daulat Ul Islamiya, which, according to him, is the group behind the deadly incident.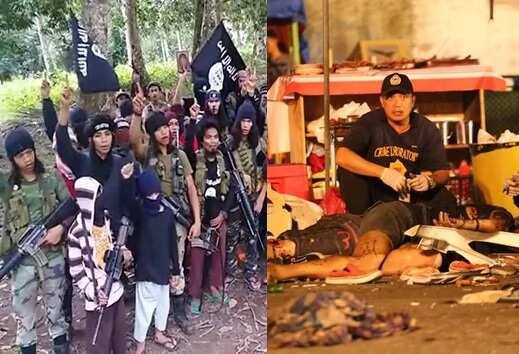 READ ALSO: DILG Chief: Abu Sayyaf claims responsibility for DEADLY Davao explosion
He said: "They are doing this to sympathize (with) our group and we are sending a message to President Rodrigo Duterte that all the Daulat throughout the country is not afraid of him."
Askali then warned that the attack in Davao was only one of the several attacks to follow as the military continues to pursue the bandit group in Sulu.
He added: "We can hardly call people, but we can still inflict damage to the soldiers."
READ ALSO: Man leaves bag prior to Davao blast
An estimated 9,000 troops were deployed in Sulu to battle against the bandit group. The encounter started on August 26, leaving 15 soldiers dead and 30 rebels had been killed.
According to Askali, they will  only stop the bomb attacks "if Duterte will make our hadith his laws and he will seek conversion to Islam."
The hadith is the collection of traditions containing the Prophet Muhammad's sayings with accounts of his daily practice which is emulated by the Sunni Muslims.
READ ALSO: Duterte declares 'State of lawlessness' nationwide to protect PH!
Southern Mindanao police director Chief Supt. Manuel Gaerlan said that they are now looking into the possible involvement of "disgruntled vendors" in the blasting but the police also consider possible groups that might have participated in the attack.
"There were some disgruntled vendors in the awarding of stalls at the night market. This is one of the motives that we are looking into," Gaerlan said.
Gaerlan, who supervises the investigation, said that they are still collecting more evidence on the blast.
READ ALSO: Davao blast from improvised explosive device? People talk about the bombing
Source: Kami.com.ph