Kanlaon Volcano Spews Ash Unexpectedly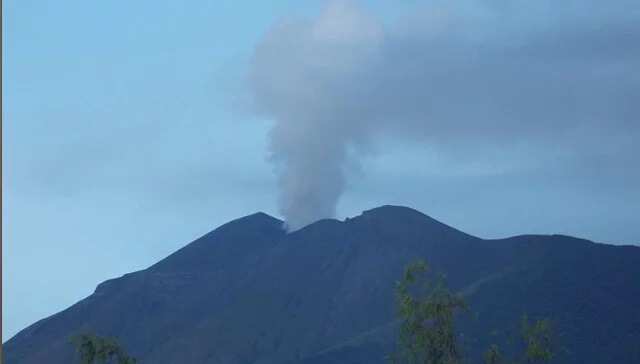 Kanlaon volcano spewed ash last Tuesday evening, March 29, 2016 at 6:30pm, alerting local authorities and placing a 4-kilometere area around the volcano as a "Permanent Danger Zone."
The volcano spewed ash at around 4,921 feet (1,500 meters) while traces of light ash-fall reported in Sitio Guintubdan, Ara-al, and La Carlota City. The eruption lasted for around 20 minutes. A booming sound was also heard in Sitio Guintubdan, Barangays Ara-al and Yubo, and La Carlota City in Negros Occidental; and Barangay Pula in Negros Oriental's Canlaon City.
It has been barely 3 months since the last eruption of Kanlaon, the last recorded one being December 27, 2015, with a plume that rose around 500m from the summit.
The Philippine Institute of Volcanology and Seismology (Phivolcs) has released a statement that there was no lava flow that came out from the crater. However, with some reports concerning that the eruption ejected hot rocks and may have also caused a bush fire on the Masulog side of Canlaon City, these are but statements that the agency will yet confirm.
Aviation authorities have also warned against any aircraft flying close to the volcano's summit.
Zeaphard Caelian, chief of the Negros Occidental Provincial Disaster Management Program Division, urged the public to wear masks and to stay at home, as from previous interviews, it was mentioned that the ashfall is hazardous to one's health as these are carcinogenic, and may cause asthma and other pulmonary problems.
The Kanlaon volcano is the most active volcano in the Philippines, and is a famous spot for mountain climbers. It is also the centerpiece of Mount Kanlaon Natural Park, a national park established in August 8, 1934. This volcano is also included in the Pacific Ring of Fire.
Read more here:
PHIVOLCS records ash eruption at Mt. Kanlaon
Photo from cnnphilippines.com
Source: KAMI.com.gh