- Dogs are known to be the man's best friend because of their loyalty and care for their owner
- Social networking sites are full of videos of cute and adorable dogs who make you want to adopt one immediately
- This pet groomer caught dancing with a dog is the cutest thing you will see
Dog owners are very meticulous when it comes to taking care of their pets and providing their needs. Most of the time, these adorable dogs are brought to animal groomers who are already experts in cleaning animals with utmost care.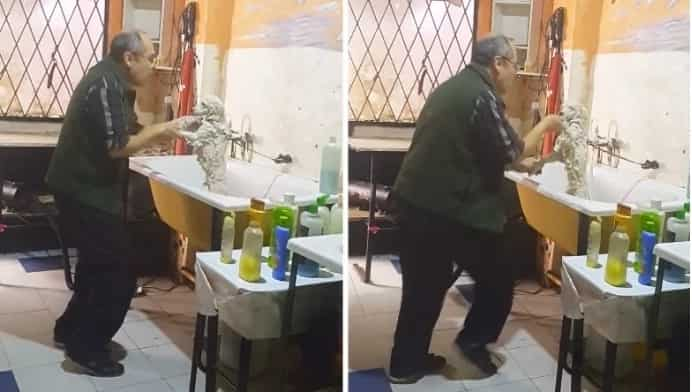 A pet groomer in Buenos Aires, Argentina does not only wash and trim his clients' dogs but also dances with them in his own dog grooming parlor.
Luis Antonio Caballero runs PetShop Perrito Feliz in Buenos Aires together with his wife Gabriela. Luis was caught dancing with the dog he was currently washing while also listening to some music to keep the groove going.
READ ALSO: These puppies are identical dog twins, the first pair known to the science!
The 58-year-old animal groomer was dancing to the beat of Love Shack by the B52s while washing his client's dog.
Gabriela was the one who took the video and recorded the adorable moment of seeing a man and an animal getting together, especially that the two make a really good dancing pair together.
"I stepped away to make some tea and returned to find Luis dancing. He didn't realize I was there, so I took out my phone and started recording. This is just a normal day here," said Gabriela.
READ ALSO: Emotional DOG grieves and CRIES like a human over its DEAD owner's grave!
When Luis has no work in his pet shop, he dedicates his time helping homeless dogs by looking for good homes that are willing to adopt them.
According to his wife, Luis' affection for dogs is not limited to their business and they are a family dedicated to taking good care of dogs.
"He loves them, and they love him," she added.
READ ALSO: Abused puppy pinned to railroad tracks was saved and given a new life and leg
The video of Luis dancing with the dog was posted on the Facebook page for PetShop Perrito Feliz and has already been viewed more than 1.7 million times.
Many netizens have given Luis the award "World's Sweetest Pet Groomer" for the love and care he is giving to dogs.
Source: Kami.com.ph