A group of students in Olongapo violently beats helpless girl
- A video showing a group of students beating another girl went viral on social media
- The group of girls cornered the helpless girl and continuously beat her and pushed her down to the ground
- The video already gained more than 800,000 views on Facebook
A video uploaded on Facebook showing students engaged in a catfight went viral on social media and has left netizens inflamed.
A video posted on Facebook shows a group of students in Olongapo, City beating one girl in the streets. Some bystanders tried to stop the commotion but the group continued to beat the girl. Some students punched and kicked the girl while others pulled her hair.
The girl was pushed down to the ground and that's when the group cornered her. The group of students and the girl who was being beaten were wearing different uniforms.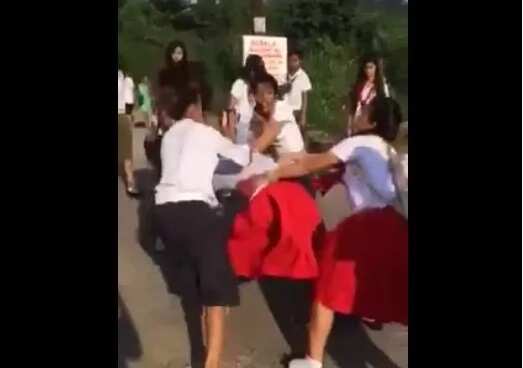 READ ALSO: RECKLESS driving: Unsuspecting delivery man VIOLENTLY hit by a car in a subdivision
Netizens condemned the video and the violent act of the students involved. Some were extremely enraged while others demanded a penalty for the students.
One Facebook user said: "I don't usually comment sa mga ganito pero eto nakakapanggigil. Kahit ano pang story behind sa away nila hindi dapat ganian na pinagtulungan pa nila yun bata. May mga tiga Columban, ano ginagawa nila, WALA! Nganga lang, nanunuod lang din knowing na college sila tapos mga high school lang yan hindi nila awatin. Jusko po!"
Another user was disappointed with the students and wrote: "This is heartbreaking, why do they have to do this, walang kalaban laban yung binubugbog nila, andaming nanonood na pwedeng umawat, what if mapatay nila yung girl. Sana managot lahat ng involved dito sa gulong to, I'm a parent and I'm sure yung magulang nung nabugbog madudurog ang puso kapag nakita nila ito."
READ ALSO: This piglet in Ilocos Norte effortlessly walks with only two legs!
The video has reached Olongapo City Mayor Jong Yorac Cortez who also commented in the video. He wrote: "I was informed by DepEd and Old Cabalan officials na yung incident was last July 18 pa. Pero tinawag na ang involved students ng Aura, OCNHS, Columban at yung nabugbog na tiga-OCABIS. Continuing po ang investigation ng DepEd."
Cortez further said that the girl's grandmother dropped by the barangay and complained about the incident.
The video already gained more than 800,000 views and more than 10,000 shares on Facebook.
READ ALSO: A small boy from Ifugao battles a DEADLY cobra!
Source: KAMI.com.gh