The Pew Research Center is known for conducting polls not only on an American level, but on an international level as well. Interestingly, one of their polls was on the subject of how the world sees U.S. President Barack Obama.
Upon release of their findings, it was found that not only do most countries love Obama, but they also have "the utmost confidence in him," as per Addicting Info.
An average of 65 percent say – based on data pulled from 40 states in six continents – that they could entrust Barack Obama with doing the right thing. Meanwhile, 27 percent feel otherwise.
Here are the top 10 countries that had the highest ratings for Barack Obama: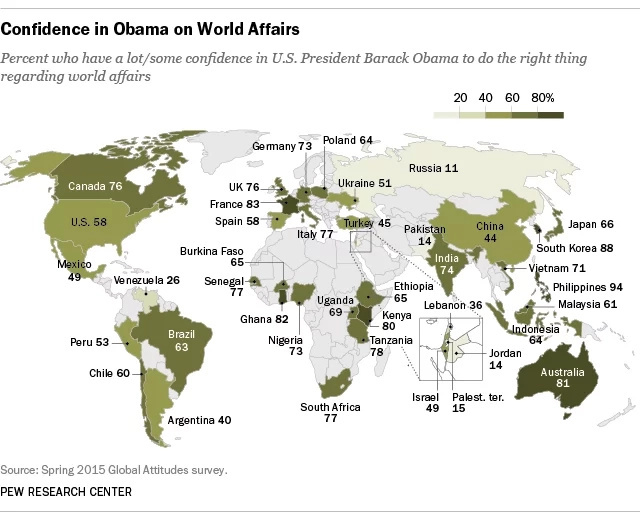 As it turns out, India's confidence in President Barack Obama increased – from 48 percent in 2014 to 74 percent as of current standing. Moreover, the lowest rating Obama had was from Africa, with a score of 65 percent.
President Obama saw a huge decrease in likes from Russia and Israel, which could probably be the reason behind his lower ratings, in comparison to 2009 when he first began his U.S. presidency.
Currently, only 49 percent of Israelis still have confidence in Obama; a huge blow from a rating of 71 percent just last year. The low ratings could have been a result of President Obama's ongoing disagreements with Israeli Prime Minister Benjamin Netanyahu over discussions regarding Iran.
In the U.S., the poll discovered that 58 percent of American citizens have confidence in Obama. Apparently this isn't too bad, considering that Republicans claim that people despise him.
WATCH: Most Republicans say Obama doesn't love America by Secular Talk Radio.
Countries that don't seem to have enough trust in President Barack Obama include Jordan, Pakistan, Venezuela, Argentina, and the Palestinian Territory.
Source: Kami.com.ph