EDITOR'S NOTE: This column contains themes and images that may not be suitable for minors. Parental guidance is strongly advised.
CCTV footage of an unsuspecting man on a parked motorcycle getting violently hit by a car in a subdivision had gone viral, with the online community outraged by the traffic incident.
The video shows the rider – believed to be a delivery person – stopping his motorcycle near the side of the road, probably to check the address he was supposed to go to.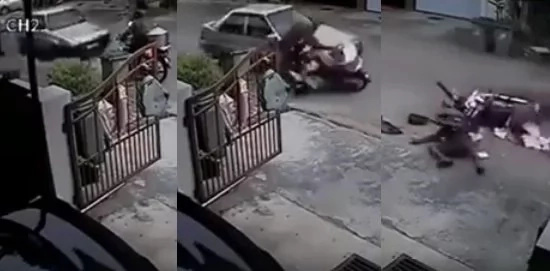 READ ALSO: A small boy from Ifugao battles a DEADLY cobra!
A few moments later, a car approached his parked motorcycle straight on with no intention of hitting the break. The next scene is terrifying, as the car crashes straight to the motorcycle, sending the rider flying through the air.
Miraculously, the rider was able to get up immediately after he fell to the ground but he dropped to his knees later on after he felt the impact of the crash.
Many netizens were outraged with the reckless driver. Several online users think that the driver could either be sleeping, using his cellphone or drunk driving. They also expressed their sympathy towards the rider who was reportedly working at the time of the accident.
READ ALSO: Hero cop risks his life to save SUICIDAL man from oncoming TRAIN!
"Kawawa naman.. Nag hahanap buhay ang tao..Grabe naman," a netizen lamented.
(I feel sorry for him. He was just doing his job. This is too much.)
"May space naman pa naman sa gilid bakit binunggo pa talaga nya ung tao," another online user wrote.
(There was enough space on the road for the car to pass through. Why did he crash onto the motorcycle rider?)
On the other hand, several netizens pointed out that the delivery man should have parked his motorcycle in a safer area.
SHARE this terrifying video with your family and friends!
READ ALSO: VIDEO: Father, son ATTACK a helpless man after losing in Pampanga cockfighting!
Source: Kami.com.ph