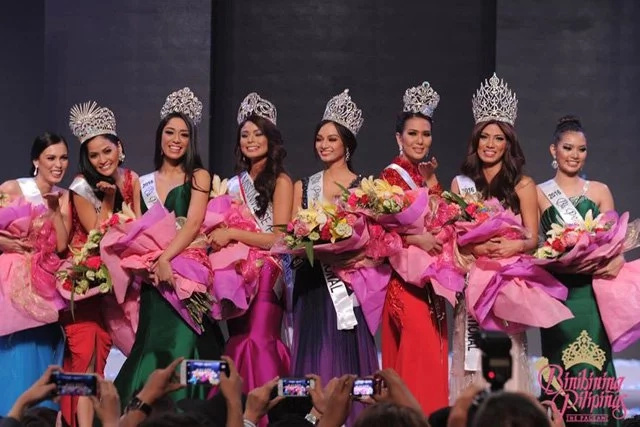 During a press conference a day after the grand coronation night of Binibining Pilipinas 2016, the new Philippine beauty title holders fearlessly voiced out their opinion on the issue of rape being used in jokes.
Newly-crowned beauty queens, including Miss Universe-Philippines Maxine Medina, voiced out their opinions about rape, stemming from an issue created by a viral video showing presidential aspirant and Davao City Mayor Rodrigo Duterte making a remark about rape.
"It's not a good thing. We are all celebrating beauty here in pageants. For me it is something that we need to study more," said Medina, who has big shoes to fill after being crowned by no less than Miss Universe 2015 herself, Pia WUrtzbach.
On her part, Binibining Pilipinas International Kylie Verzosa said: "It's a sensitive topic, there are many rape victims. The Philippines is a very conservative country, not a lot of people open up about it. I know there are a lot of sexual harassment cases, and women should open up some more. This affects mostly women, and they should assert themselves."
This early, the beauty queens seem to be taking to heart the advice Pia Wurtzbach gave to the next set of beauty queens during the press conference before the pageant night.
Pia said: "She has to have genuine interest in what's happening in the country and the world… [She] has to have a stand and opinion on it. [She] has to be well-spoken and brave."
Similar to the Q&A portion of Miss Universe 2015 where Pia was asked about the United States military presence in the Philippines, some of this year's contestants of Binibining Pilipinas were asked about current social issues.
When asked what international issue she would want to focus on as an ambassador of goodwill, Binibining Pilipinas Intercontinental Jennifer Hammond said that she wanted to focus on terrorism and highlighted the need for kind communication.
"It is one of the major problems of the world right now. I would encourage people to fight for their beliefs by kind words, communication. Communication begets understanding, understanding begets tolerance, and tolerance begets peace," she said.
Nichole Manalo, who was crowned Binibining Pilipinas Globe by reigning Miss Globe Ann Lorraine Colis, said the toughest challenge of a Filipino woman her age "is to be courageous, determined and resilient."
She added: "I will tell the women to continue to have that quality. Because if you have that quality, you can stand for what you believe in, you can transform not just yourself, but society to the best version of it."
Though unable to directly shape government policy, these beauty queens surely know how to communicate their thoughts well. They are making their message of women empowerment heard loud and clear using beauty pageants as their platforms. In the Philippines, beauty pageants are taken seriously by a good number of people and many girls aspire to follow the footsteps of beautiful Filipinas who have made a name and difference not just in the country but also in the world, or universe rather.
The newly-crowned beauty queens are expected to start with the preparations for their respective international beauty pageants soon.
Source: Kami.com.ph