- A cafe locate in Quezon City allows people to take a nap or a shower after, before, or in-between their study time
- It also provides unlimited coffee, Wi-Fi access, and power supply to the customers
- It is the first of its kind in the country
Are you one of those who like to spend time studying in coffeeshops and end up sleeping on your coffee? Good news! This new café actually offers unique services for diligent students like you.
A coffeeshop in Quezon City is fast becoming famous because of its one-of-a-kind services: shower and sleeping services.
It is the first café in the country that offers napping and showering services to customers.
READ ALSO: These five restaurants have the most bizarre themes!
Their napping service comes with a pillow and an optional add-on where café staff can wake you up in a specific time while their showering service is inclusive of bathing essentials, including towels and toiletries.
It's too good to be true, but hey! It is true.
Located in Elizabeth Hall, Katipunan Avenue, Quezon City, this café is best for students who are planning to do an all-nighter.
"Diligence Cafe is a study cafe which offers unlimited high-speed internet connection, unlimited coffee, brain food, printing service, locker rental and even shower services when you're running late!," their Facebook page information states.
READ ALSO: 4 reasons why you should visit Hugot Cafe in Caloocan
But, wait! There's more!
The café also provides each customer with unlimited coffee and Wi-Fi connection. Plus, you can also get free access to power outlets too!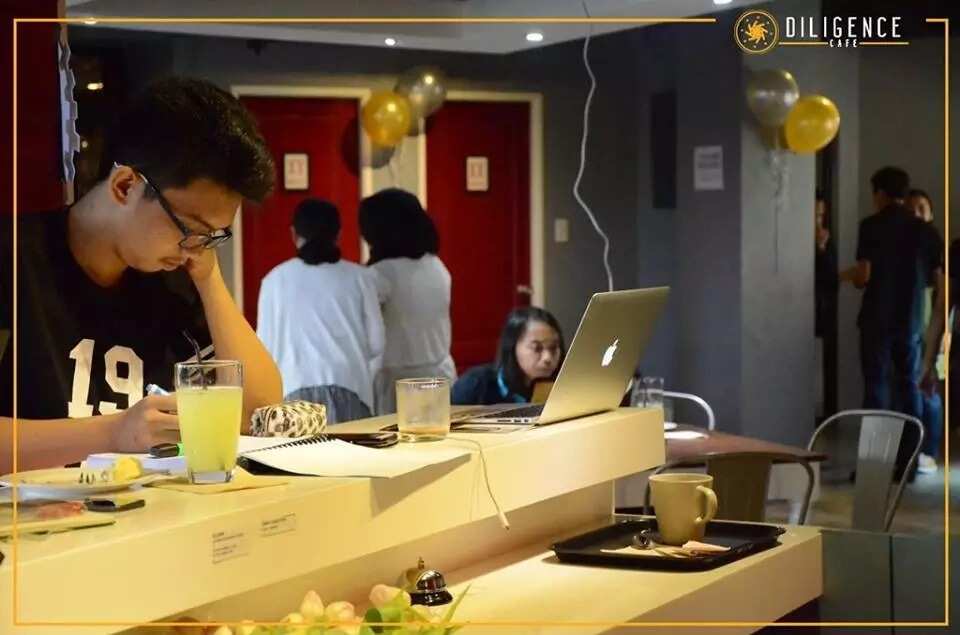 This coffeeshop is a place designed and built to meet the needs of diligent people like you. That is why most of their customers are students who need to work on their projects or those who need to study a book from cover to cover for an exam the next day.
However, it is not limited to these group of customers only.
READ ALSO: A cafe invites customers to pay for coffee with kisses instead of cash
They are also open to people who just want to take a break and eat some good pastries and gulp on good drinks.
The coffee opens from 2 in the afternoon until 7 in the morning.
So, if you wish to discover this unique café, head on to either UP Diliman Campus, Commonwealth, or Philcoa and take it from there.
"You may ride a UP-Katipunan Jeep (Red Roofed) from inside UP and get off at the second overpass from UP. 2nd Floor Elizabeth Hall, Above Music 22. We are directly across Petron Station," their Facebook page states.
READ ALSO: 5 Must-visit themed cafes in Metro Manila
On the other hand, if you are from Aurora Blvd or from LRT2 Stations, just "get off at LRT Katipunan Station, walk to the Jeepney terminal under the Katipunan-Aurora Flyover. Ride a Katipunan Jeep-UP or Katipunan-Marcos Highway Jeep. Ask to be dropped off at Petron Station."
Enjoy your study time!
P.S. Don't forget to bring some cash with you.-Kami Media
READ ALSO: Alden Welcomes Public To His Cafe
Source: Kami.com.ph