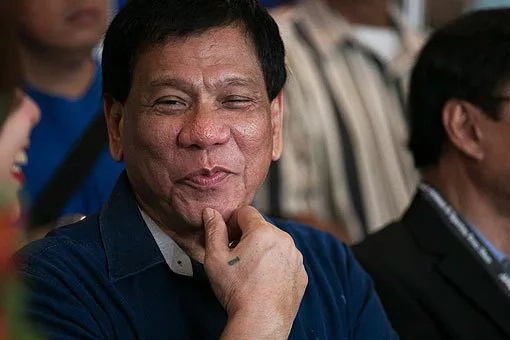 Presidential aspirant and Davao City Mayor Rodrigo Duterte lashed back at critics, slamming Australia for interfering in local politics and rebuking bishops for asking the people not to vote for him as he gets embroiled in an issue related to his remark about rape.
"This is politics. Stay out. Stay out Australian government. Stay out," Duterte said when asked for his reaction to the tweet of the Australian embassy calling his remark about an Australian lay missionary who was raped in 1989 unacceptable.
The tough-talking mayor also asked the Catholic Bishops Conference of the Philippines (CBCP) to slow down on castigating him for his "bad remark on rape."
"I thought all the while I was doing my duties for humanity. And now they're castigating me for my mouth?" Duterte told reporters while campaigning in Bacolod City on Monday, April 18.
"I am a candidate with a foul mouth who kills criminals, but CBCP, I am not a thief. You choose between the two," he added. "If the CBCP is correct don't vote for me. If you obey the CBCP, fine go with them but for me 'they're dumb as they don't understand what I said.' It was slang."
Duterte came under fire recently after a video surfaced online showing him make a remark about a rape victim. He was recounting a Davao City prison riot where five lay missionaries were killed, including the Australian Jacqueline Hamill who was also raped by the inmates.
In the Youtube video, Duterte was heard saying: "P--- ina, saying. Ang napasok sa isip ko, ni-rape nila, pinagpilahan nila lahat doon."
"Nagalit ako kasi ni-rape? Oo. Isa rin 'yun," he added. "Pero napakaganda, dapat mayor muna ang nauna. Sayang."
Duterte has refused to apologize for his remarks despite the public uproar saying that it was his expression of anger and the language that he used is something that he grew up speaking. In an earlier interview, he said: "I was derogating the act of rape. It's a slang (sic) actually,"
"I do not want anybody controlling my mouth. I say what I say and I've said it and if it does not sit well with you, that's your problem. Not mine. Why should anybody begrudge me for telling the truth," he added.
READ ALSO: Duterte won't apologize for rape remark
In a seeming reference to the rape remark issue, the Australian Ambassador to the Philippines Amanda Gorely took to Twitter on Monday, April 18, and posted: "rape and murder should never be joked about or trivialized. Violence against women and girls is unacceptable anytime, anywhere."
In a similar way, CBCP President Archbishop Socrates Villegas and other Catholic prelates have also denounced the remark and asked Filipino voters to be more critical in electing leaders.
Villegas shared a link to the controversial video on his Facebook account and posted: "Judge for yourself if this is the right choice. I will keep my personal judgment to myself. This video can help you see."
READ ALSO: Australia: Don't trivialize rape
READ ALSO: Catholic bishops: Don't vote for Duterte!
Source: Kami.com.ph