-"Nagmahal, Nasaktan" memes are the newes online sensations that may replace "Hugot"
- Facebook user, Teri Bernardo, made around 48 memes
- Netizens can relate to his memes that it went viral on Facebook
You may have heard of "hugot" from various publications, online accounts, and mainstream media in the Philippines. We all know that it's about sharing something personal, even bitter memories, and transforming it to a funny yet relatable line.
Celebrities and even local companies have adapted this nationwide phenomenon in their gigs and incorporated it also in their works.
There's a new threat, however, to the famous "hugot," and no it's not "Pak Ganern."
READ ALSO: VIRAL: Funny Pokémon Go memes depicting PH celebrities will make you laugh!
Facebook user, Teri Bernardo, shared on his Facebook account, 48 memes about "Nagmahal, nasaktan (You loved, got hurt)."
Unlike the hugot lines that only dwell on the past and brings back bitter memories, Nagmahal, nasaktan memes offer a fresh insight on how people get over heartbreaks. It also leaves a positive impact on the person rather than promoting negativity.
Different people with different personalities and lives deal with heartbreaks in their own unique way. Here, Teri shares some of the things that he thought people could relate to.
READ ALSO: 5 Hugot Commercials You'd Definitely Relate To
He scored the jackpot because with his simple yet funny memes, people responded to it very positively. As of posting, "Nagmahal, nasaktan" has more than 18 thousand likes and about 6 thousand comments.
Some of our favorite memes include: Nagkabilbil (got fat in the belly), Naging Blonde (Got blonde hair), Nag Sagada (Went to Sagada), Nagfierce dark lipstick (Wore a fierce dark lipstick), NagMaster's Degree (Got a Master's Degree), and Nagbangs (Got bangs).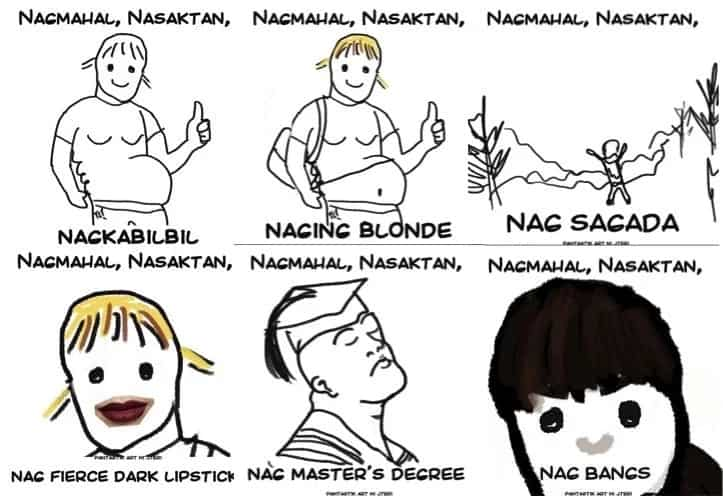 While some of these have positive outcomes, some also cater to people who are still heartbroken. He perfectly captures what people who haven't moved on normally do such as Nagstalk (resorted to stalking), Nag-emote sa bintana (emoted near the window), Iniwan (got left by the person), and the worst is On repeat: Nagmahal, nasaktan ulit (On repeat: loved and got hurt again).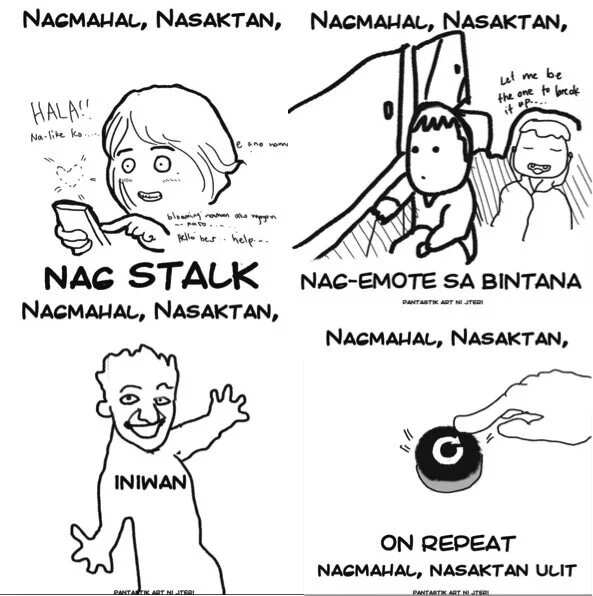 READ ALSO: Watch Pak! Ganern! Bakla and Dyoga Girl versions go viral
What is your favorite from these Nagmahal, nasaktan memes?
To see more of his works, click HERE!
Source: Kami.com.ph