- PNP Chief Ronald 'Bato' Dela Rosa led the massive burning of marijuana plants in Cordilerra
- Upon seeing the photos, netizens were dismayed and disappointed on the method PNP used
- Netizens reacted strongly saying that it should've been used for medicine while some reacted with humor
President Rody Duterte's war on drugs campaign has been fully implemented by the Philippine National Police, primarily by Chief Ronald 'Bato' Dela Rosa.
It is clear in the news everyday that they're doing a great job at finding drug pushers and making drug users to surrender. They've also found different drug paraphernalia, substances, and other drug-related stuff in their buy-bust operations.
All of their efforts are commendable but with their recent drug bust operation in Cordillera, people aren't in an all-time high with what the PNP did.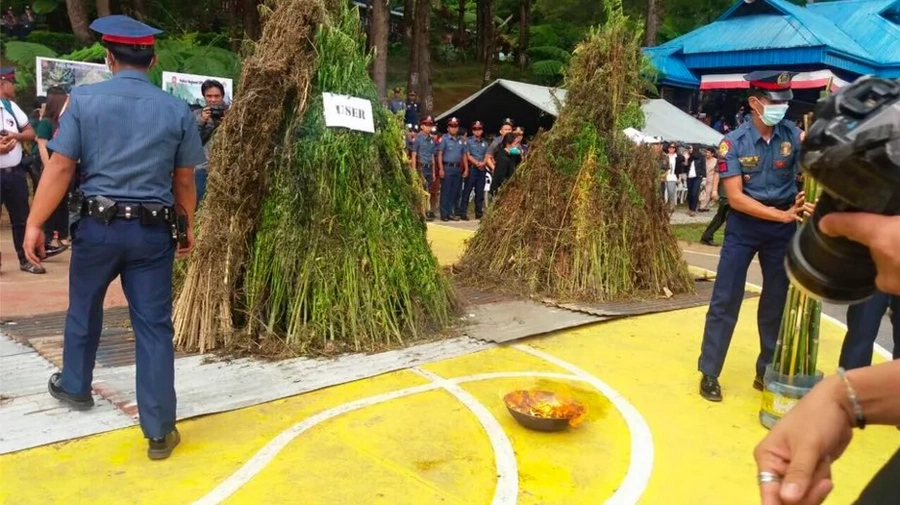 READ ALSO: Here's how Obama's daughter was punished by her father for smoking weed
The PNP as led by Chief Bato were able to round up marijuana plants particularly in Benguet. They gathered the plants and made around 5-6 huge piles in an open field with many people watching.
What irked many netizens was their method of eliminating these drugs. The PNP burned these all at the same time.
We all know that when you burn marijuana and inhale the smoke, you get high. Once you get high and get tested for drugs, it will result as positive.
READ ALSO: Police arrived to stop a family fight, but found there a greenhouse full of weed
Netizens expressed their disapproval of the method used because it will make the people in the vicinity of the burning marijuana, high if they inhale the smoke. Some even suggested other methods that the PNP could have used.



Many have commented that it should have been saved and used for cancer patients who need it as cannabis oil. Netizens also said that research should be done more towards the medicinal capabilities of this herb.



Some even debated that marijuana should be legalized so that many people will benefit from it since it's not man-made.



READ ALSO: NBI to file charges against policeman caught reselling seized drugs
There are also people who rebutted the legalization argument with their own opinions.



Of course, when it comes to Filipino netizens, humor will always be there. Some commented their own funny take on the issue.


Were you annoyed with how the PNP disposed of the marijuana piles? –Kami Media
READ ALSO: WATCH: Duterte says yes to marijuana
Source: Kami.com.ph