- There were numerous occasions in the Philippines when unexplainable sightings in the sky were believed to be UFOs
- The latest accounts were documented in videos but the earlier ones were only shared through stories
- No local government agency confirmed these tales but they still gave the Filipinos the choice to believe it or not
For the longest time, conspiracy theorists believed that humans were not the only creatures inhabiting the solar system. We often referred to them as extraterrestrial or aliens.
Although different national organizations kept on denying the existence of life outside Earth, some people just can't shake off the idea that it's impossible for us to be alone given the vast space beyond our planet.
In addition to the long list of believers were Filipinos. In fact, we're so fascinated with them that we created our local version of Steven Spielberg's film, 'E.T.' in the personality of 'Kokey.' This is not a surprise because Filipinos also believed they have witnessed unconfirmed sightings.
READ ALSO: Are you BRAVE enough to read through these common Pinoy school horror stories?
Here are 5 accounts of Filipinos who believed they saw unidentified flying objects (UFOs)!
1. The imprints left in Leyte (1984)
In the morning of March, four grade 5 children were ordered to fetch water in the creek. Suddenly, they heard a loud sound and decided to check the source. When they looked up, they described seeing a giant 'clam shell' which glowed. After hovering for a while, it descended on an open field.
READ ALSO: That's how the man with no face looks like one year after full face transplant
2. A young man's lonely encounter in Camarines Sur (1984)
A high school student was on his way home when he had an unforgettable experience. Upon walking on the rice fields where his house was located, he decided to look up. That's when he saw not one but six oval shaped UFO near the mountains. The orange UFOs were descending in a slanted position.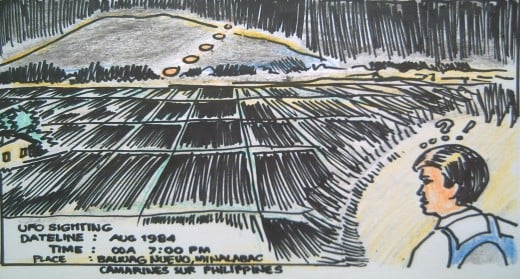 3. Balls of fire in Las Piñas (2000)
Antonio Israel took his handycam as fast as possible when he saw balls of light during a very clear night. In the video, you can even hear him calling his mother while pointing out the UFO he was seeing.
READ ALSO: Explosions at Kennedy Space Center, another threat?
4. UFOs with different color glows in Bulacan (2012)
YouTube user Kenn Anthony Carpeso definitely knew what a UFO is. However, he didn't expect seeing one and in different colors too. What made his sighting different from the others was the fact that it changed its colors from red to yellow. In the end, he still left the viewers to judge what he really saw.
5. PAG-ASA called it impossible; viral UFO sighting in Pampanga (2015)
The video taken in Lubao, Pampanga immediately went viral on Facebook. At first there were only 3 lights forming a v-shape, suddenly 7 light were added. Later on, all of them vanished together. When the video was shown to the Philippine Atmospheric, Geophysical and Astronomical Services Administration (PAG-ASA), they told the media that it was impossible for the lights to be stars given its distance from the ground. They can't also be airplanes, hot air balloons or drones due to its size and movements.
These sightings weren't always dismissed as false stories since 10 official governments, namely Peru, Australia, Uruguay, France, United Kingdom, Canada, Chile, Brazil, Soviet Union, and the United States conducted their own investigations on this matter.
Source: Kami.com.ph