Philippines tops JobStreet's job happiness survey
- According to Happy Planet Index's 2016 report, the Philippines is the 20th happiest nation in the world
- Recently, the country also proved that they are the happiest and most satisfied workers in their region, topping JobStreet.com's Happiness Index Report 2016 and Job Happiness Index
- The country's highest ranking was in 2013 when it was the fifth happiest nation in the world by Gallup's Positive Experience Index 
Filipinos prove that they are one of the happiest nations in the world and even it reflects in their work.
According to a survey conducted by jobs portal JobStreet.com, the Philippines topped the list of Asian countries who are happy and satisfied with their work.
JobStreet Philippine Marketing Director Yoda Buyco noted that the survey was conducted in the middle of June to July this year.
READ ALSO: 11 Things to be excited about #BerMonths
Out of the seven Asian nations included in the list, the country got the highest average satisfaction rating with 6.25 out of 10 points.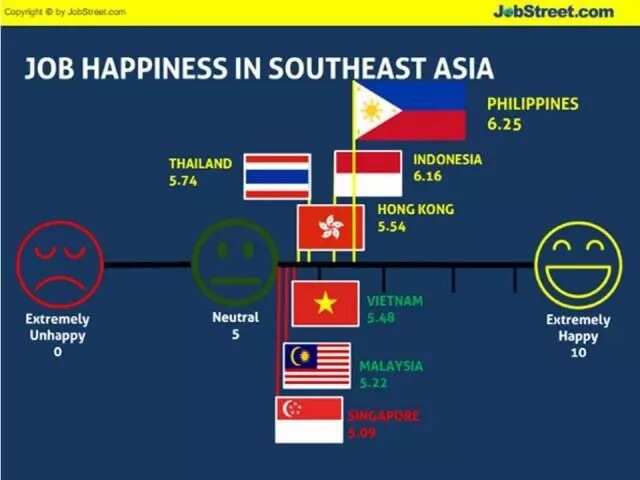 The other countries included in the list are ASEAN members - Malaysia, Indonesia, Singapore, Thailand, and Vietnam - as well as Hong Kong.
12,736 Filipinos responded to the jobs portal's 'Happiness Index Report 2016'.
READ ALSO: 3-legged cow 'Suerte' is the lucky charm of its owners in Ilocos Norte
Indonesia got the next highest score with a 6.16 satisfaction rating, followed by Thailand with 5.74.
Singapore got the lowest rating with 5.09.
In its Job Happiness Index. however, 73 out of 100 Filipinos claimed that they were happy with their work despite the high income tax rates in the country.
READ ALSO: Make your sweetheart swoon with 'I love you' and other phrases in 5 different Philippine languages!
JobStreet Philippines Country Manager Philip Gioca stated that Pinoys are happy with their work because they picked jobs from reputable companies that are conveniently located to their homes.  Another reason is that they can get along well with their colleagues.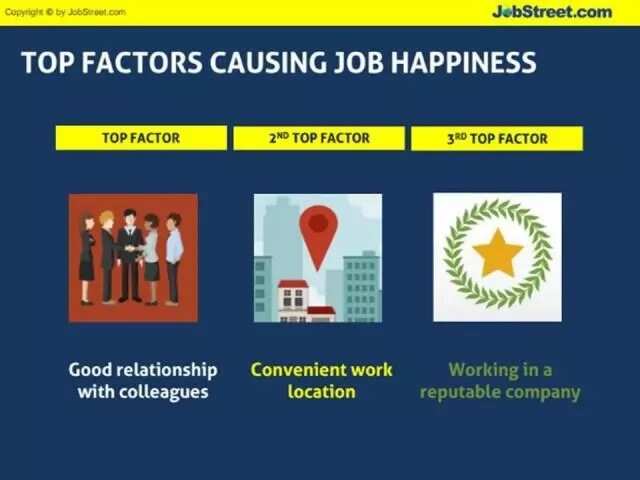 He also noted that most Filipinos have a 'relational nature' that makes it easier for them to adapt to their surroundings.
Recently, the Philippines ranked as the 20th happiest country in the world by the Happy Planet Index in its 2016 report.
READ ALSO: GOOD NEWS: Philippines is the 20th happiest country in the world!
In 2013, the country was the fifth happiest nation in the world according to Gallup's Positive Experience Index.
We may not have ranked as first worldwide, but at least we have shown that we are a nation that always looks on the bright side in our continent.
Do you agree that we are indeed one of the world's happiest nations? Share in the comments what you think as always!
READ ALSO: INSPIRING: 10 simple life lessons from a woman with a life well lived
Source: KAMI.com.gh