- President Rodrigo Duterte said he is ready to defend drug war when he gets to meet U.S. President Barack Obama next week
- Duterte, however, warned  that he will only talk to the U.S. leader if he listens first to him
- White House press secretary Josh Earnest noted that Obama "is not going to pull any punches"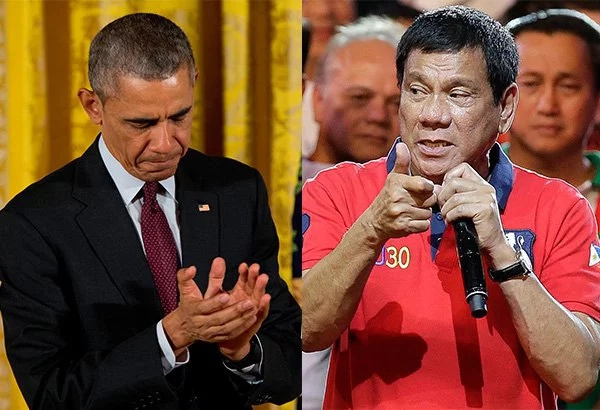 READ ALSO: Duterte has a message to Mary Jane Veloso; here's what the president told her
The crime-busting and iron-fisted Philippine President Rodrigo Duterte said on Wednesday that he is willing to have a talk with US President Barack Obama given that the latter must listen to him first.
Duterte had a short Q&A with the media at the Ninoy Aquino International Airport (NAIA) Terminal 2 in Pasay after welcoming 129 repatriated Filipino workers from Saudi Arabia.
"If he wishes to talk about human rights, I ask that he tries to understand the problem first," he noted.
READ ALSO: Duterte prepared to DEFEND drug war to Obama
"They must understand the problem first before we talk about human rights. I would insist, listen to me: this is what the problem is, then we can talk about it," Duterte added.
Josh Earnest, White House press secretary told the press on Wednesday that Obama is "going to speak quite directly" when asked about the Philippine president's admonition.
"The president is not going to pull any punches," Earnest said.
READ ALSO: Abella: Obama and Duterte meeting at ASEAN Summit unconfirmed
The former Davao City mayor has been defiant toward criticisms from international government agencies condemning his war on illegal drugs. Almost 2,000 casualties have been recorded since he assumed office.
The White House has shown concern over extensive killings under Duterte's war on drugs.
About 900 drug suspects were killed under police operations two months after Duterte became the head of the country.
READ ALSO: Duterte AWARDS P4.7 billion for Philippine soldiers' widows, WWII veterans
Duterte, on the other hand, explained that his anti-drug campaign is a matter of national security. Noting that illegaldrugs is not only epidemic but also pandemic, Philippines must wipe it out.
Duterte and Obama are set to meet on the sidelines of the Association of Southeast Asian Nations (ASEAN) Summit that will be held in Vientiane, Laos on September 6 to 8.
RELATED: Duterte may visit May Jane Veloso, a Filipina worker convicted for drug trafficking in Indonesia
Source: Kami.com.ph