The Running Duo, Senator Miriam Defensor-Santiago and Senator Ferdinand "Bongbong" Marcos, expresses their sentiments and takes a dim view against Mayor Rodrigo "Digong" Duterte's statement on the 1989 rape and murder of an Australian lay missionary in Davao City.
In a brief interview after her delivering speech during the commencement exercise of more than a hundred graduates at the Bulacan State University, Senator Santiago said he crossed the line.
The senator recognizes Mayor Duterte's right to free expression. Yet, she advises the people to express their heated sentiments through the ballot.
"If the people do not like the remark, they can express it through the ballot. But otherwise, he has the right to free expression. That's the way he expresses himself," Santiago said.
Her running-mate, Senator and vice presidential candidate Marcos characterized the mayor's remark as inappropriate.
"Nagulat kami. It seems unfortunate and I can only describe it as inappropriate. Biktima 'yung tao 'tapos dinagdagan pa natin," said Marcos.
"It is also necessary to be sensitive also to the plight of the victim of such terrible crime," Marcos added.
Meanwhile, aspiring president Santiago inspires the youth during her speech by giving pieces of advice.
"Nothing matters more to the future of this nation than to ensure that our young women and men learn to believe in themselves and in their dreams," said Santiago.
"Being successful means being a person of value to others. Matagumpay ka kung may kahulugan ka para sa mga kakilala mo. It means reaching those goals you have set for yourself. It also means sustaining excellence in the things you do," she said.
She reminded the graduates of their duty to challenge the status quo as they exhibit wide and huge influence to change the country.
"You have a duty to challenge the status quo. Palagi mo i-challenge. Hindi lang tanggap ng tanggap, and create a better country for our people. Use your right to vote to change our country. You have immense influence over your family, friends and neighbors and tell them to make an intelligent choice," added Santiago.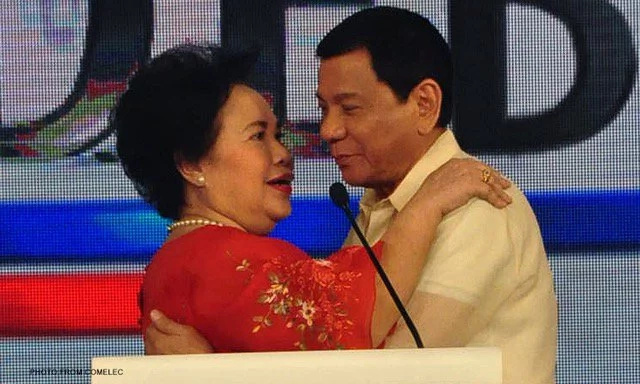 Source: Kami.com.ph