Duterte might visit drug convict Mary Jane Veloso
- Malacañang verified on Thursday that President Rodrigo Duterte may visit detained Filipina worker Mary Jane Veloso in Indonesia before he flies to Southeast Asian countries
- Duterte on Wednesday said that he was praying for Veloso
- Veloso who was convicted for drug trafficking has been on death row for 6 years already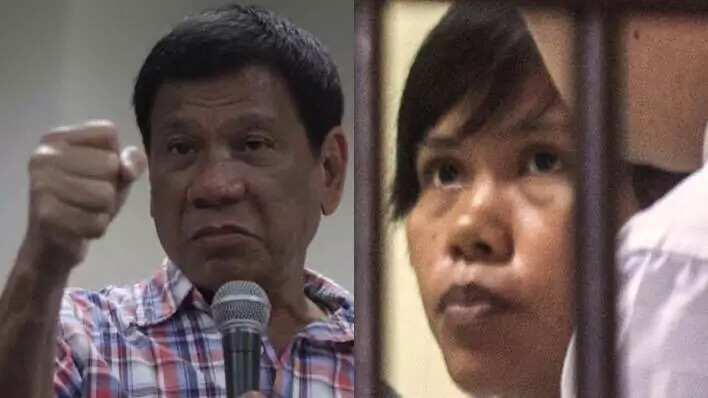 READ ALSO: Mary Jane Veloso excluded from execution
A week before President Rodrigo "Digong" Roa Duterte flies to Southeast Asian countries for his scheduled trip, he might first visit detained Overseas Filipino Worker (OFW) Mary Jane Veloso in Indonesia according to Malacanang.
Presidential spokesperson Ernesto Abella confirmed this on Thursday during a media gathering.
"Given the opportunity, I think he will," he told reporters.
READ ALSO: DRUG testing could become MANDATORY for admission to university – CHED
The Chief Executive is expected to visit Indonesia on September 8 and 9 following his attendance to the Association of Southeast Asian Nations (ASEAN) summit that will be held in Laos.
During his talk on Wednesday,  August 31, Duterte has mentioned Veloso.
"Mayroon rin tayong preso doon marami, drugs, pati si Veloso. Ewan ko kung anong—I'm praying that I could do something for her," the president stated, referring to his arranged trip to Indonesia.
READ ALSO: Duterte prepared to DEFEND drug war to Obama
(We also have other prisoners there, we have numerous, drugs, also Veloso. I don't know if – I'm praying that I could do something for her.)
Duterte is known for his tough battle against crime and illegal drugs. He also supports the reinstatement of the death penalty.
Meanwhile, the Philippine government noted that Veloso was actually a drug trade victim and not a perpetrator.
READ ALSO: De Lima denies knowing alleged drug lord Kerwin Espinosa
"Governments should consider (migrant workers) as people who are victimized by the drug trade, they are tricked into being mules - but they are the ones being punished for the crime," Migrante International's deputy secretary-general Mic Catuira said.
Veloso was sentenced to death in Indonesia for drug trafficking. According to her, she was deceived by her recruiters into bringing 2.6 kilograms of heroin to the Yogyakarta Airport in 2010.
She was included in the execution list and was about to be executed by firing squad in April last year but was given a last-minute reprieve. Other fourteen drug convicts were executed in Indonesia amidst resentment from human rights advocates and international governments.
RELATED: Duterte has a message to Mary Jane Veloso; here's what the president told her
Source: KAMI.com.gh